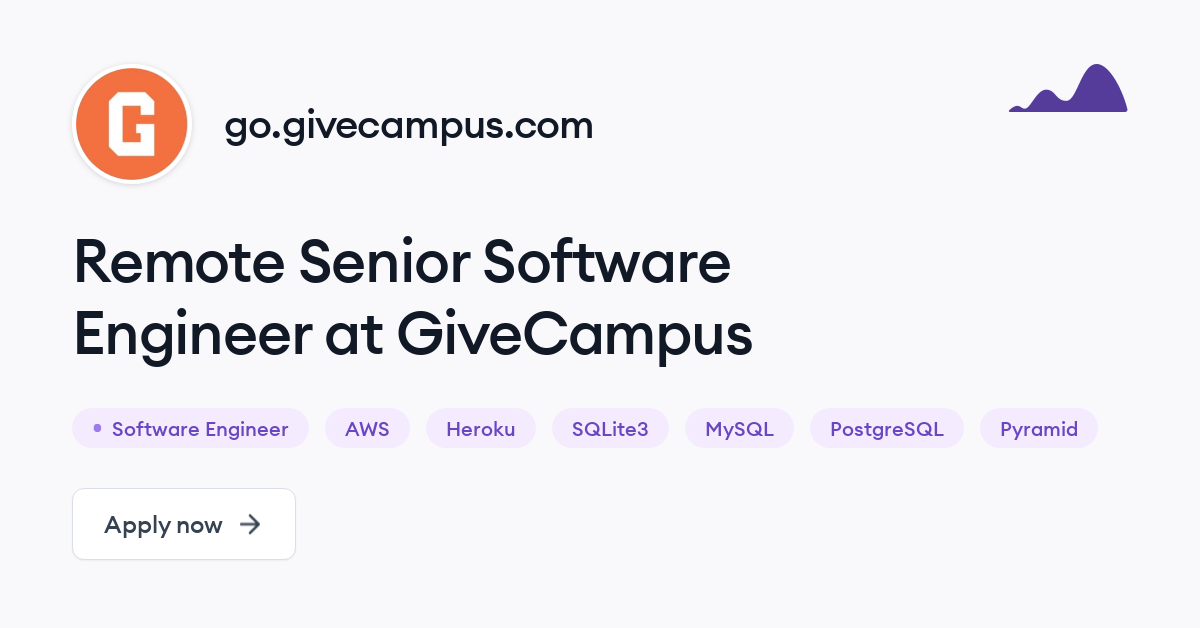 GiveCampus
At GiveCampus, our mission is to help advance the quality, the affordability, and the accessibility of education. We've become the world's leading social fundraising and engagement platform for non-profit educational institutions, and we're trusted by nearly 1,000 colleges, universities, and K-12 schools. We're profitable and continuing to expand our team to support our aggressive growth trajectory, and we're looking to hire exceptional, motivated, diverse candidates.
We are looking for a brilliant and energetic Senior Software Engineer to join GiveCampus and help us take the platform to the next level. You will be a key member of our team, making technical decisions that will shape the company's future. You will hit the ground running with our stack and who loves to brainstorm, write code, create new features, and have a big impact. We are headquartered in Washington, DC, and are hiring both in-office and remote (US).
Responsibilities will include:
Working on the full stack, from UI elements to database performance.

Building new features from start to finish and back end to front end, including architecture design, coding, testing, and supporting in production.

Tackling a wide variety of technical issues throughout our stack and contributing to all parts of the code base.
Key attributes that may assist in your success
Functional, real world programming experience (vs. theoretical).

Experience with MVC frameworks such as Rails, Django, Pyramid, etc.

The ability to hold your own on the front end and the back end.

SQL database experience (PostgreSQL, MySQL, SQLite).

Experience with deployments to Heroku, AWS, or similar.

Experience balancing swift and long-term code maintainability.
Helpful – but not required, skills:
Deep expertise with Ruby/Ruby on Rails.

Experience with Postgres database administration.

Shipped code that has supported tens of thousands of users, including enterprise/business customers.

Operations experience and how it pertains to site reliability/speed.

Familiarity with networking, caching, database, and how to triage issues.

Experience working on a fundraising/crowdfunding platform.

Experience working on a fintech or payments technology product.

A good eye for intuitive, user-friendly front end design.
If we've piqued your interest, please apply below! We're always looking to hire amazing people, so even if none of our listed positions are connecting with you right now, send us a note anyway; we'd love to hear from you and stay in touch.
GiveCampus is an Equal Opportunity Employer and strongly encourages applications from people of color, persons with disabilities, the LGBTQIA+ community, and individuals regardless of age, gender, religion, educational level, marital or veteran status.
At GiveCampus, we pledge to foster an environment of support, inclusivity, and learning both on the job and throughout the application process. We recognize that candidates may not possess every qualification noted in a job posting, and strongly encourage you to apply if you meet the majority of the criteria.
Originally posted on Himalayas