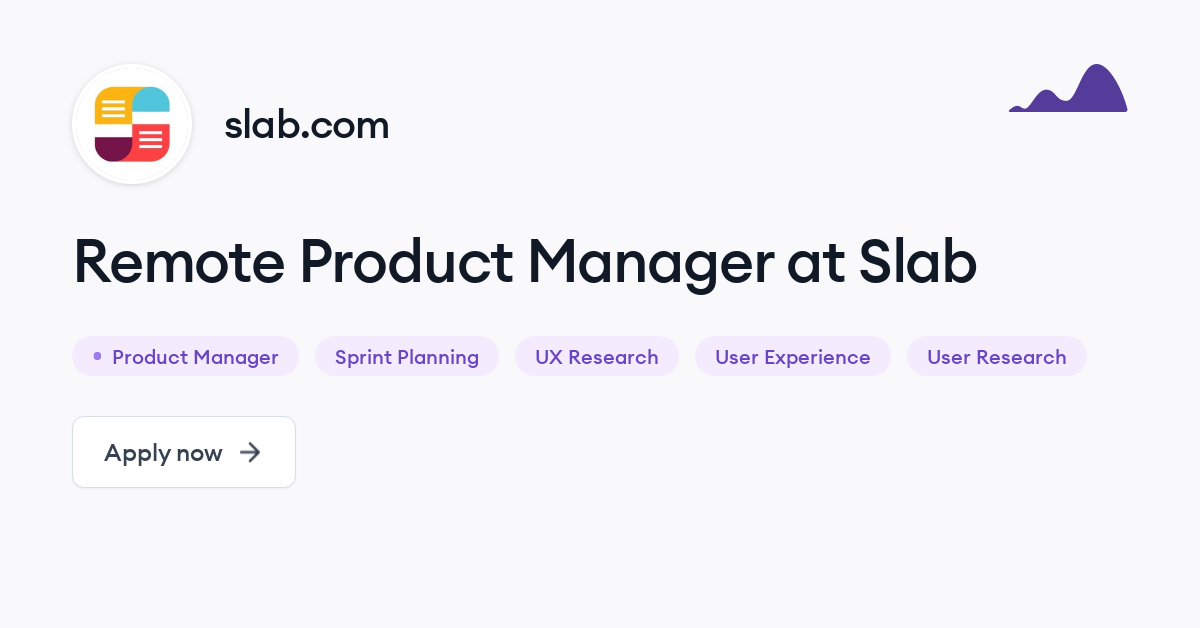 Slab
At Slab, we believe that knowledge is the foundation of any organization's success. When a team's collective knowledge is accessible, that team's potential is limitless. That's why we're making the workplace a source of learning and purpose through knowledge-sharing. Our product helps teams easily create, organize, and discover knowledge across the entire company, from non-technical to tech-savvy. Thousands of customers rely on Slab across their entire workforces, including Asana, Benchling, and Fivetran.
Responsibilities:
• Craft amazing product experiences that delight our users and customers
• Design and conduct user research including surveys, observation, and direct interviews
• Combine qualitative research and quantitative analysis to inform crucial product decisions
• Draft detailed product specifications to guide implementation and iteration
• Partner with design and engineering to prioritize features and manage trade-offs
Sounds Like You?
• Experience shipping products or features with tremendous user impact, and experience iterating after getting it wrong
• Excellent written communication that is clear, effective, and conducive to fast decision-making
• Tireless eye for detail and obsession with building great user experiences
• Technically proficient: capable of wading into the details with engineering leadership but can also drive the 30k foot view
• Passionate about knowledge-sharing and the problem we are solving at Slab
What We Value:
• Stay lean – We strive for the greatest possible impact with the fewest number of employees. We empower our teammates with the most leveraged tools and efficient processes.
• Default to open – We encourage and nurture open exchanges of knowledge and ideas — while acting with respect and regard for each other.
• Think rigorously – We act and execute after careful thought and examination of known information, while acknowledging the risks we accept in its absence.
• Say no – We aim to deliver exceptionally high value in a small set of focus areas. We willingly abstain from good ideas to give only the most promising paths the attention they deserve.
• The best prevails – Whether an idea or an individual, the best will rise to the top at Slab. Ideas we pursue can come from anywhere, and individuals gain responsibilities due to outperformance.
• Global optimization – We believe that our mission — to make the workplace a source of learning and purpose — is the ultimate priority, above any single project, team, or individual.
Benefits:
• Full medical, dental, and vision insurance
• Wellness & remote work stipends
• $5k workspace setup, renewed biannually
• 7-year options exercise window
Slab is an equal opportunity employer. We welcome people of diverse backgrounds, experiences, and perspectives.
Originally posted on Himalayas