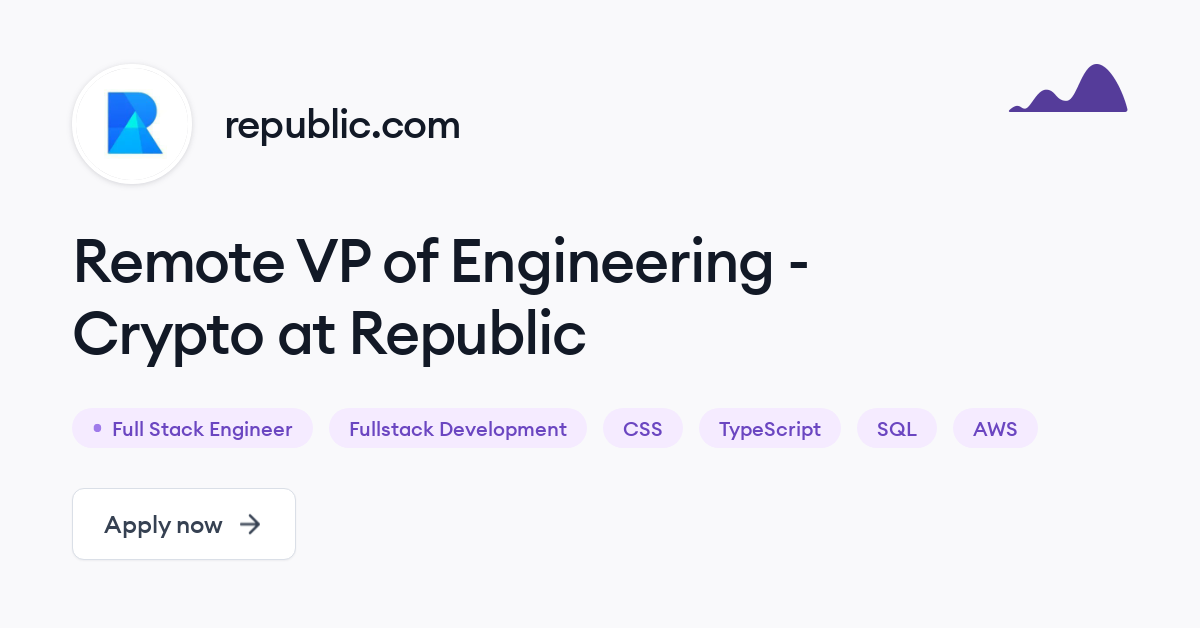 Republic
Republic is a financial technology firm that allows everyone to invest in private markets. Republic operates several distinct business lines including a retail investment platform, a private capital division, and a blockchain advisory practice. The Republic ecosystem has deployed over $1.5 billion in investments, has supported over 600 companies, and is comprised of a community of over 1.5M users across 100 countries. Republic is backed by dozens of leading investment firms and financial institutions and its affiliated entities have co-invested with the best names in venture and private equity. Founded in 2016, Republic is headquartered in New York City with offices worldwide.
Republic Crypto is accelerating the growth of Web3 by supporting its most ambitious builders and investors. We are looking for a hands on VP of Engineering to help build and oversee the technical direction of Republic's Crypto Engineering team
The VP of Engineering will demonstrate advanced Blockchain technology programming experience while scaling a fast-growing, globally-distributed team. This individual also enjoys and thrives in a high-paced environment with a large variety of projects and initiatives at any given time. 

What you'll do 
Provide leadership for blockchain engineering excellence
Define strategy for team growth and project deliverables
Continue to build, mentor and grow an engineering team that is responsible for first in class software and blockchain projects
Set and maintain efficient and secure development processes
Write clean, well tested blockchain smart contract and JavaScript code
Develop a hiring plan that allows the team to achieve growth targets
Help design of blockchain and token solutions and make recommendations on security, cost, performance and reliability
Providing high level collaboration and technical guidance for both internal and client team members
Organizing new and at times unexpected projects in a way that manages expectations of team member and clients
Contributing to various Republic Crypto internal engineering initiatives
Engaging partners, prospective clients and clients of Republic crypto
Preparing presentations and decision support documents for executive staff

Our ideal candidate

 10+ years in a senior-level, lead engineering role or similar 
Experience developing, managing and growing a geographically dispersed engineering team
Hands on technical and product experience in Crypto, Blockchain and or Web3 ecosystem
Knowledge of popular blockchain protocols (L1 and L2), their consensus mechanisms and asset standards (Ethereum, Algorand, Avalanche, Polygon, Bitcoin, Solana, Polkadot, etc.)
Technical working knowledge of blockchain assets, smart contracts, blockchain interoperability, blockchain consensus mechanisms, blockchain data securitization, etc.
Experience writing/debugging and deploying Smart Contracts
Familiarity with Solidity EVM or Rust smart contract programs, Node.JS and React
Experience deploying smart contracts to the Ethereum, Solana and other blockchains mainnets
Experience developing, facilitating, and delivering executive-level presentations
Experience presenting and representing a company to partners and at conferences

Why Republic?

The business is accelerating at a rapid pace. Republic is a venture-backed company with real traction across crowdfunding, private investing options and crypto. We recently closed a $150M Series B funding led by Valor Equity Partners.
Attracting and retaining the very best people is our #1 priority. That's why we offer our team best-in-class benefits, including fully-subsidized medical, vision, and dental insurance, a 4% 401(k) match, free access to Talkspace, weekly virtual meditation sessions, a monthly wellness stipend up to $200, quarterly swag bonuses, free lunch for anyone in the office, equipment stipends for eligible remote employees, and more. Seriously–we don't mess around when it comes to taking care of our own.
Originally posted on Himalayas