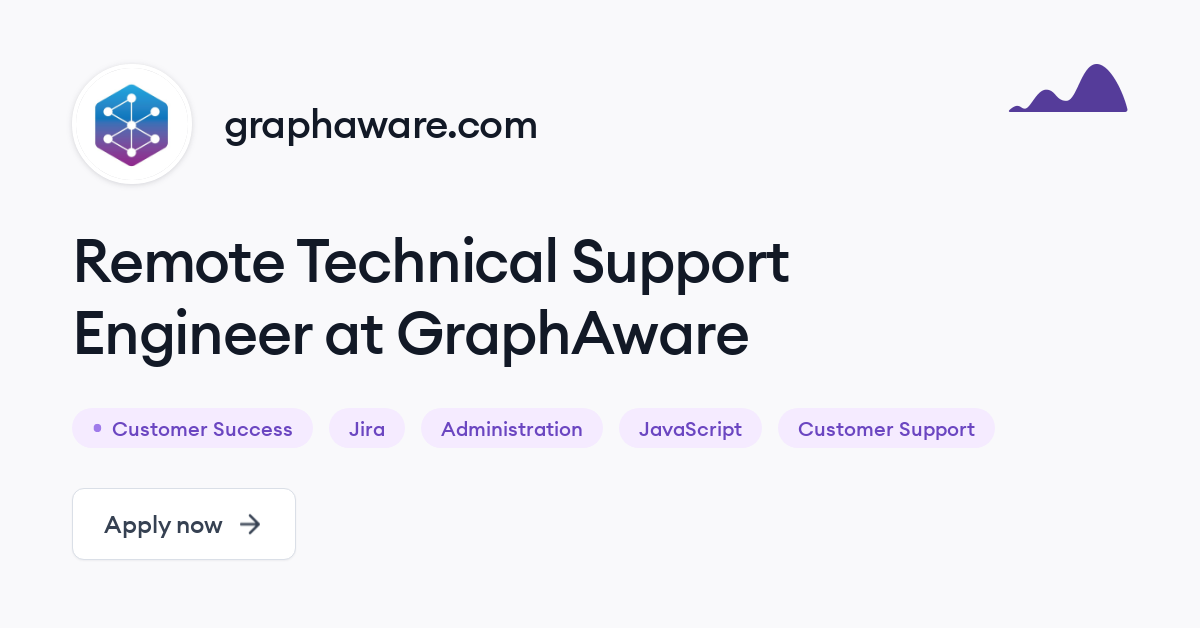 GraphAware
We are an international team of graph experts helping organisations gain a competitive edge by applying graph and machine learning technologies.
Our product, Hume, enables mission-critical graph analytics and is used worldwide to enforce the law, combat financial fraud, discover new medicines, and much more. Graph technologies were marked as an important Critical Enabler by Gartner. Hume has a validated potential to take GraphAware from a $5M to $100M company in 10 years and you can join us on that journey.
What is the Technical Support Engineer role about?
As a Technical Support Engineer, you will be a key person in ensuring the success of our Hume customers within the Customer Excellence team. You will directly interact with customers to diagnose their issues, troubleshoot and provide solutions in close collaboration with internal as well as external development teams. If you enjoy using hands-on modern tech stacks, support innovative customers, and would like to work in engaging, collaborative, and fostering environment – this could be the position for you.
What does a typical day look like?
The typical day of a Technical Support Engineer includes the following activities:
Scan news on Slack, Zendesk, and occasionally email

Sync up with APAC support colleagues before the end of the work day in Australia

Look over priorities and plans for the day

Check if there are any ongoing urgent/priority tickets and search for a timely resolution

Attend scheduled internal and external meetings

Keep up with latest product and technology updates

Actively use Hume to be well aware of the best-practices, limitations and other tricks

Record and write down all necessary pieces of information in systems to keep the whole team on the same page
Are you GraphAware's next Technical Support Engineer?
This opportunity is best suited for an engineer who has a proven track record in technical support positions. Moreover, our company values need to resonate with you:
Strive for excellence

Sense of ownership

Driven by customer success

True team player

Believe in the value of graph technologies
Main responsibilities of the role:
Own, troubleshoot and solve technical issues including deployment and configuration

Interpret and analyse log data and/or customer narratives to troubleshoot issues

Identify cases that require escalation (technical or strategic) for timely resolution

Take necessary steps to quickly mitigate disruptions by recommending workarounds

Investigate cases and conduct incident reviews to determine root causes of issues

Collaborate and coordinate with other teams and experts to arrive at the best solutions

Establish solid technical understanding of Hume and customer's use cases

Advise and educate customers on the features and capabilities of Hume

Provide internal feedback regarding trends and observances, and work with them to define and drive fixes and enhancements to address customer needs

Curate content of Knowledge Base and suggest improvements for product documentation.

Contribute to automation and other self-help assets to improve customer/engineer experience

Cover support for customers in the EMEA region and continuity for APAC region, with emergency off-hours work
To succeed, we believe, you need to have the following skills
Technical skills
3+ years in a customer facing technical support role

Fluent English, spoken and written, with ability to express yourself with confidence and diplomacy

Computer Science or similar background and/or equivalent work experience

Experience supporting JVM based applications

Docker experience in practical use

Proficiency in Linux system usage and basic configuration

Database skills – basic administration and the ability to write SQL queries

Data integration and ingestion experience (eg. with Apache NiFi/Camel or similar)

Enterprise cloud experience with any of the major cloud providers
Bonus technical skills
Knowledge of graph databases, such as Neo4j

Scripting skills or the desire to learn them

Experience with authorization models (access control, roles, permissions)

Understanding of internet technologies – firewalls, web servers, proxies, etc.

Understanding of systems administration, storage technologies and virtualization

Understanding of OAuth based authentication and other auth mechanisms
Soft skills
Ability to communicate technical concepts clearly and effectively

Ability to prioritise and manage time under pressure, focusing on high-impact actions

Analytical, troubleshooting and problem-solving expertise with attention to detail

Capacity to quickly react in fast moving events

Proactivity and drive, coming up with new ideas
What we offer
We offer an opportunity to play an important role in a global technology company with a very unique company culture and to participate in the evolution of innovative product. Hume is already being used by leading companies in multiple industries. We are currently entering a new era in the life of the company with great challenges ahead of us – people are key pillars in our strategy. Working at GraphAware means:
Place where you can actually influence how we do things

Open environment for own initiative and creativity

Working for an attractive international advanced-tech company

Opportunity to gain and share the knowledge

Strong support from the manager as well as the team

Significant potential for professional growth

Flexibility to balance your personal life and work

Fun environment and great hybrid office culture

Participation in GraphAware's share scheme program
Originally posted on Himalayas