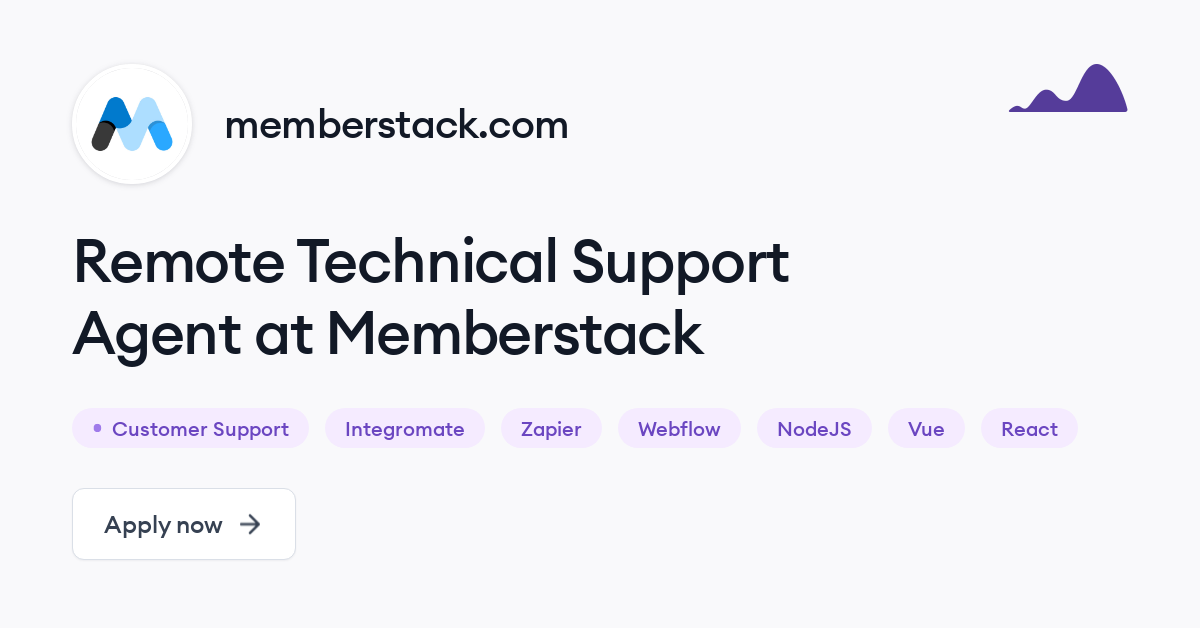 Memberstack
Our mission: To enable more people to build and scale online businesses.
It's never been easier to build a website, but the opportunity to build or own an online business is still out of reach for the vast majority of people. That's why we're creating tools that make it easier to spin up a web app, operate and scale an online business, and generate revenue.

What we do
Memberstack is a SaaS product that helps businesses quickly add user accounts and payments to any website with and without code. Memberstack is used by 2,200+ customers and has helped businesses process over $30M in transactions for hundreds of thousands of members in less than a year.
Memberstack is also backed by some incredible leaders that help build & support technology companies:

How we work
We're a distributed team with a shared passion for digital products, software, and business. We're taking full advantage of what the internet has to offer, and we want to enable more folks to do the same.
100% remote: We work from wherever we feel our best (which, so far, has included patios, home offices, mountain cabins, and coffee shops).
90% Async: Most communication is async given our timezones and wonderfully flexible schedules. We love it! But it's not for everyone.
Trust & move quickly: We trust each other to make informed decisions so we can move quickly. That being said, we're always available if support or input is needed to make a decision.
Learn & do whatever it takes: As a small team, we're flexible with the tasks we take up and are eager to learn whatever it takes to make things work for our users.

Does this sound like you?
You absolutely love helping people and solving problems together
You are passionate about web development
You are organized & pay close attention to detail
You are familiar with Memberstack
You can troubleshoot your way through a web development problem
You are comfortable working on your own for long stretches of time & communicating asynchronously with others.

Must-have skills
Effective and empathetic writing + communication skills in English 💬
Strong understanding of web development fundamentals ⚒️
Understanding of HTML and CSS 👩‍💻
Understanding of JavaScript 👾
Proficient in building HTML/CSS websites from scratch
Experience debugging custom code in the developer console
Bonus: Prior experience with Memberstack
Bonus: Prior experience with Zendesk
Bonus: Prior experience with React/Vue and Node.js
Bonus: Experience working with Webflow
Bonus: Experience with Zapier and/or Integromate
Bonus: Squarespace, Duda, WordPress, etc.
Originally posted on Himalayas