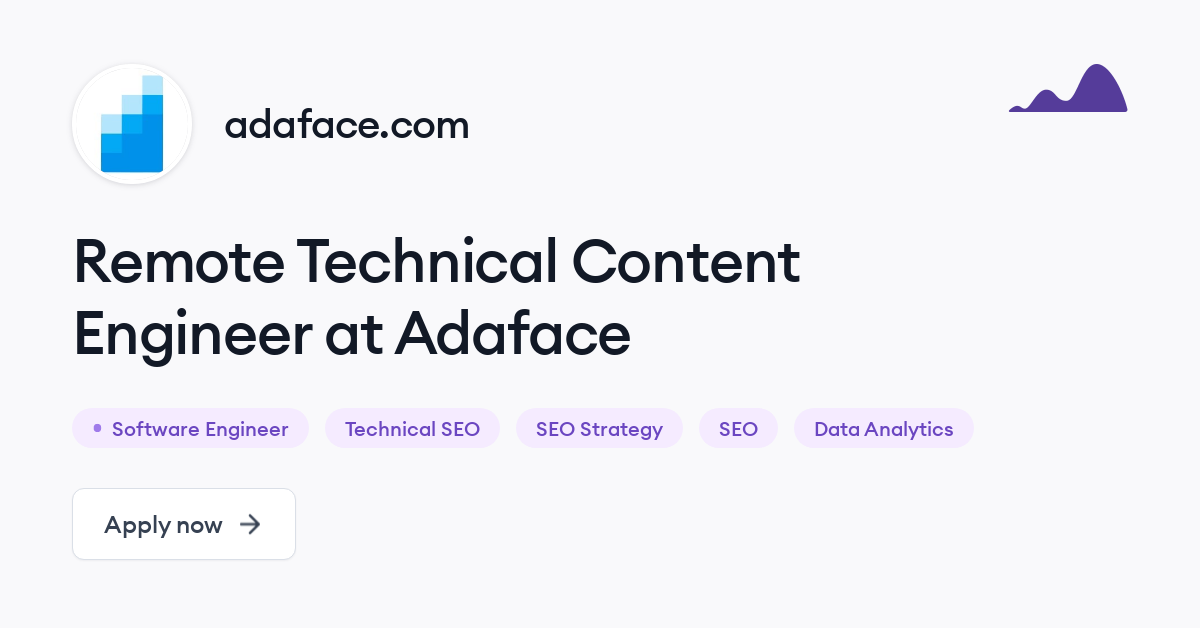 Adaface
Adaface is B2B SaaS company founded by IIT alums- Siddhartha Gunti and Deepti Chopra. Combined we've done research in NLP/AI at institutions like Caltech, led product teams at startups taking them from seed to series A and developed quant models at enterprises like Goldman Sachs.
With Adaface, we are changing the way tech recruitment works for generation-z with our chatbot Ada. Ada is the world's first skills assessment chatbot- top candidates prefer Adaface because Ada engages with a friendly chat involving relevant challenges as opposed to asking trick questions on a test. With Ada we enable companies to identify the best engineers faster and build strong teams.
We are incubated at Enterpreneur First, Singapore based accelerator funded by Reid Hoffman of LinkedIn. We are at a crucial point in the company with high m-o-m growth and ambitious goals. We are excited to grow our core team with talented and entrepreneurial members.

What will you do?
Develop high-quality, creative questions involving various Computer Science and/or Aptitude concepts. The questions will be used by companies like Amazon, Singapore Govt, PayPal etc in hiring next generation of engineers using Ada
Learn new skills and online tools. We're always expanding our content and adding new topics. If any skill interests you, we help you pick up the new skill while contributing to Adaface content

What impact will you have?
Ada is on track to have a chat with every developer in the world and is being used by top companies to build best teams. Every qualified content piece written by you will help Ada expand the library and help achieve the mission faster. You would be a reason candidates will leave a pre-employment chat with a smile 🙂

What is the hiring process?
Chat with Ada followed by interview. Short and simple.

Eligibility Criteria
High aptitude is a MUST-have and hunger for learning is a MUST-have.
0+ years of experience.
Computer Science degree or equivalent is preferred but NOT a must.
Knowledge of algorithms and competitive programming experience is preferred but NOT a mandatory requirement.
Originally posted on Himalayas