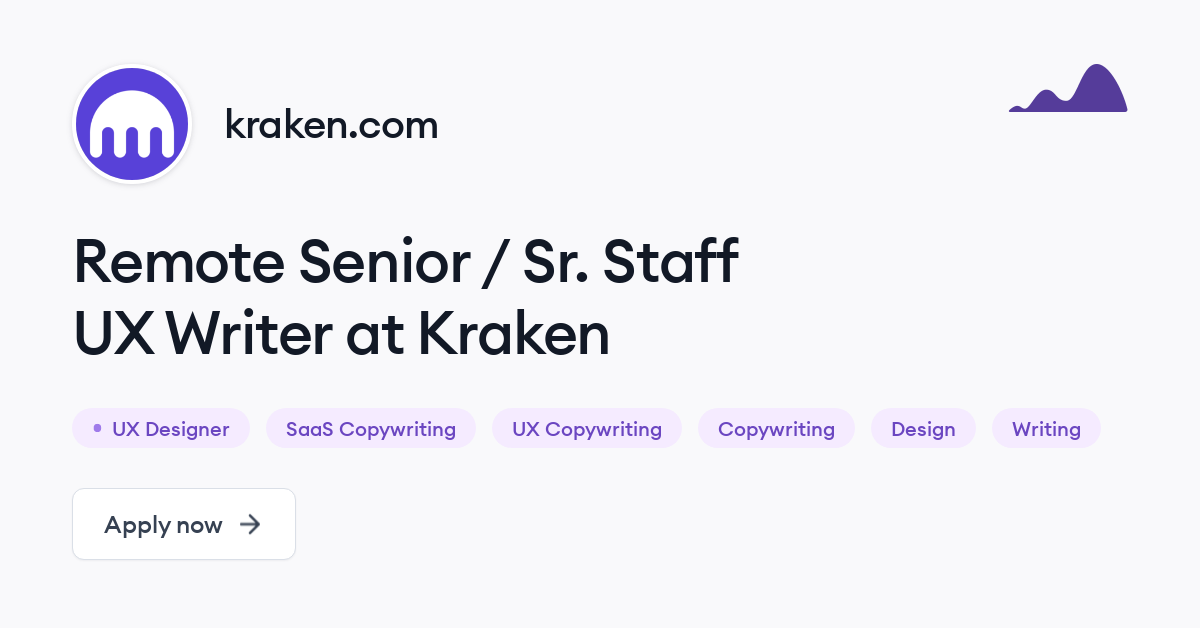 Kraken
As one of the largest and most trusted digital asset platforms globally, we are empowering people to experience the life-changing potential of crypto. Trusted by over 8 million consumer and pro traders, institutions, and authorities worldwide – our unique combination of products, services, and global expertise is helping tip the scales towards mass crypto adoption. But we're only just getting started. We want to be pioneers in crypto and add value to the everyday lives of billions. Now is not the time to sit on the sidelines. Join us to bring crypto to the world.
To ensure Kraken is the right fit for you, please ensure you read Kraken Culture Explained to find out more about us!
About this role
As a UX writer, you're an advocate for Cryptowatch design principles, influencing product experiences across platforms by creating useful, meaningful copy that helps our clients achieve their goals. You help define the vision and narratives across multiple trading platforms and applications. You collaborate with people in a variety of UX design-related roles including product managers, developers, marketing and customer experience teams to establish a unified voice across all of our products. You consistently use empathy, logic and data to inform content choices and thrive when challenged to solve the new and unknown. 
You're also a content strategist, defining product vision and narratives across multiple platforms and products you will co-own with designers as the content subject matter expert. You will drive guidelines and document best practices, oversee complex projects and work with leadership to establish product goals. 
User experience is at the core of how we create intuitive, innovative trading experiences for Cryptowatch clients. We strive to learn and understand their unique needs, behaviors, and emotions to gather insights that inform product strategy and design. We work together on collaborative teams, all unified under a single goal to make cryptocurrency easy and accessible to everyone. 
About Cryptowatch
Founded in 2014, Cryptowatch is a popular charting & trading terminal for cryptocurrency markets. Our mission is to provide  a multi-platform interface to scan prices, analyze market movements, and make trades on every major exchange.
Throughout the history of civilization, there have been a handful of moments that changed the course of how we think about wealth and equality. The discovery of gold, the creation of paper money, mortgages, ATMs. We're at the next of those moments right now, and there is no more exciting place to invest your creativity than directly at this intersection of technology and adventure. 
Responsibilities
Use writing and editing skills to write UX microcopy that facilitates user navigation, onboarding, error messages, instructional materials, and other pieces of the complete user experience

Drive vision for product and content across a product or subject-matter domain, and ensure cohesive product narratives by documenting your strategies with guidelines and best practices

Collaborate with designers, legal, marketing, product managers, and engineers. Influence and adapt to stakeholders and their feedback

Provide UX writing and content strategy leadership to the team throughout the product development process
Minimum qualifications
Bachelor's degree in English, Communications, Journalism, Technical Writing, UX or equivalent practical experience

5 years of experience in user-centered product writing such as software, web and app based products

Experience creating content for multi-disciplinary projects

Experience creating style guides and working with design systems

A portfolio of UX writing samples and pattern library documentation

3 years experience using an advanced trading platform like TradingView, Bloomberg, TradeStation, MetaTrader, Eikon (or equivalent)
Preferred qualifications
Experience with finance, cryptocurrency and blockchain technologies

Experience with localization tools and accessibility best practices

Knowledge of online technology and related products, including web and mobile UI and tools

Familiarity with UX research principles, best practices and how to use data to drive informed user insights
Location Tagging: #EU #US #APAC #LI-Remote #LI-BL1
We're powered by people from around the world with their own unique and diverse experiences. We value all Krakenites and their talents, contributions, and perspectives, regardless of their background. We encourage you to apply for roles where you don't fully meet the listed requirements, especially if you're passionate or knowledgable about crypto!
As an equal opportunity employer we don't tolerate discrimination or harassment of any kind. Whether that's based on race, ethnicity, age, gender identity, citizenship, religion, sexual orientation, disability, pregnancy, veteran status or any other protected characteristic as outlined by federal, state or local laws. 
Stay in the know
Originally posted on Himalayas