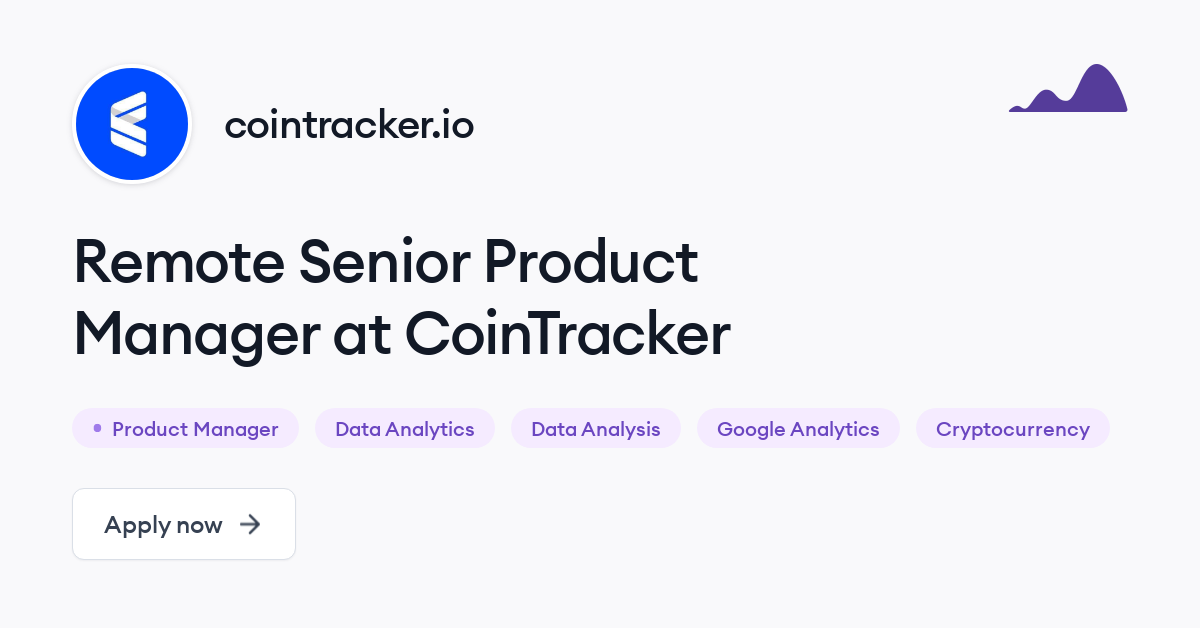 CoinTracker
CoinTracker is a portfolio assistant for cryptocurrency. It is used by over 500,000 cryptocurrency holders collectively tracking over $20 billion in crypto assets. CoinTracker enables consumers and businesses to seamlessly track their cryptocurrency portfolio, investment performance, taxes, and more. Beyond cryptocurrency, we are building a general automated financial assistant for all financial assets.
Our mission is to increase the financial freedom and prosperity of the world.
Some things we're proud of:
💲 Over 1% of all cryptocurrency transactions globally are tracked on CoinTracker
📈 Profitable and growing 15X year over year
🤝 Partnered with Coinbase, TurboTax, and other industry leaders
💼 Backers including Y Combinator, Initialized Capital, Serena Williams, and more
🗺️ Founders: Jon previously built TextNow (200M downloads), Chandan was previously a product manager at Google
Learn more about our mission, culture, and hiring process.
Your opportunity:
Join our tight-knit early-stage distributed team that thrives on interesting technical challenges and building magical products that improve people's lives. As the first product manager, you will be directly responsible for CoinTracker's product roadmap, as well as the end-to-end user experience and key objectives across the company.
You will:
Own product development from conception to launch.

Work cross-functionally with engineering, design, tax, and customer support teams to develop and implement a product roadmap.

Own key company objectives across growth, retention, monetization, and mitigating user pain points.

Define, query, and analyze data and metrics to guide product development.

Champion the team around a shared vision for the product and steer the execution of the team towards that vision.
You may enjoy this role if you:
Are a creative and technical product thinker who likes working cross functionally

Love talking to users and improving their lives

Thrive in an early-stage startup environment with less stability and more ambiguity.
We're looking for someone who:
Is relentlessly productive and resourceful.

Has built products from the ground up in a rapidly growing consumer-facing environment.

Takes a data-driven approach to decision-making.

Has exceptional communication and problem-solving skills.

Has an entrepreneurial mindset with the ability to succeed in a fast-paced environment.

Works effectively in a remote setting and are able to overlap with our core hours of 9 AM to 12 PM PT.

Is extremely passionate about taking cryptocurrency mainstream.
What's it like working at CoinTracker?
We are a fully internationally distributed, tight-knit team. We have minimal process, and the majority of our time is spent working and collaborating asynchronously through tools like Figma, Github, Google Meet, Linear, Notion, Slack, Zendesk. We also stay aligned and bonded through weekly sprints, standups, all hands, and socials. We aim to empower every individual on the team with full transparency, ownership, autonomy, and clear objectives. Learn more about our guiding principles.
If this sounds exciting, we'd love to hear from you! Not sure you're a perfect fit? Reach out anyway. We're looking for awesome individuals, not folks who perfectly match a job posting.
Originally posted on Himalayas