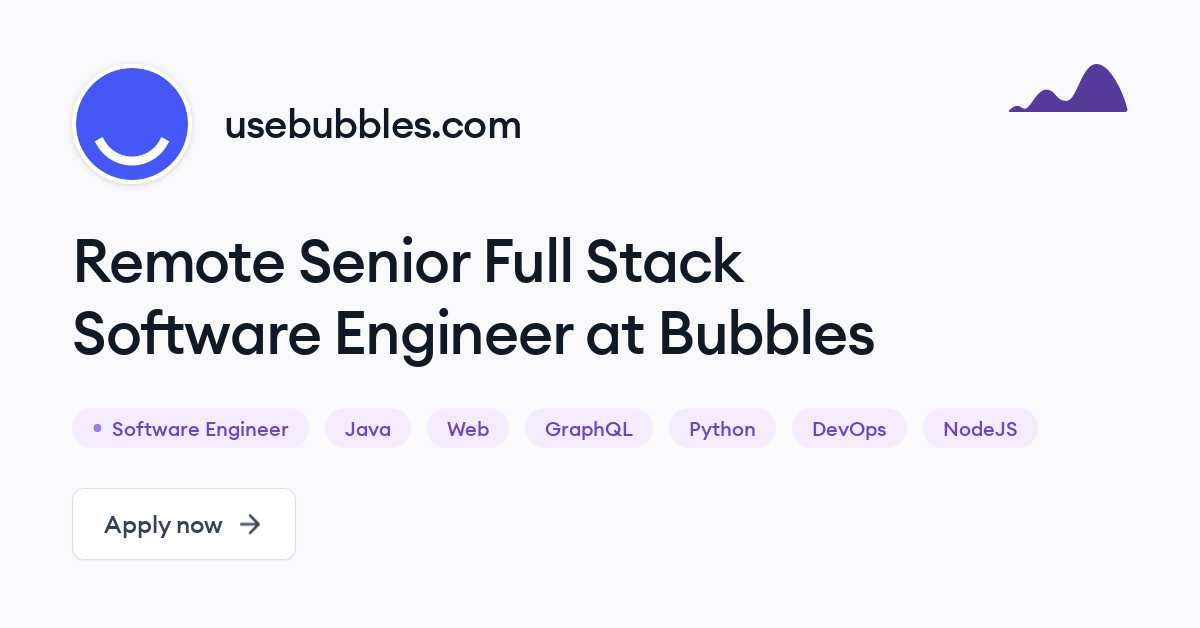 Bubbles
Bubbles
eliminates the need to have live meetings by enabling effective asynchronous collaboration. Rather than being in zoom all day, or having to convey complex problems over email or slack, bubbles lets you work on your own time and at your own pace. Our intuitive way of collaborating with highly contextual screen recordings, face videos, and audio messages creates joyful and effective conversations.

Inherent product loop
Bubbles' collaborative workflow creates a highly viral product loop that requires no sign-up. We have strong organic growth and recently closed a multi-million dollar funding round with multiple tier 1 VC firms.

TL;DR
As Senior Full Stack Software Engineer you'll build the future of asynchronous and in-context collaboration. You'll be a critical member in an awesome team of product leaders and work with smart but proven technologies like React.js, Typescript, AWS, and Serverless.
You…
Have 5+ years of professional experience in relevant software engineering
Have a strong understanding in fundamental engineering concepts such as separation of concerns and ease of reasoning
Are an expert in managing technical debt — if you choose not to avoid it, you encapsulate it
Are analytical and utilize smart processes — for you, coding is only a part of the engineering process
Are great at providing the technical context product designers need to make decisions
Proactively challenge scopes, flag issues, and suggest alternatives
Are user centric and put a great user experience above all
You'll…
Work cross-functionally with our Principal Architect and the Head of Product Design
Work with exciting but proven tech like Typescript, React.js, Redux, Serverless (AWS Lambda, Serverless Framework), Node.js, DynamoDB, and Cloudformation
Own entire product epics from brainstorming with product to defining technical specs to implementation and deployment
Continuously learn new technologies (such as react-native-web/macos/windows and serverless) and receive mentorship from senior engineers

Surround yourself with amazing people
In addition to a strong founding team with veteran startup people, you'll have access to amazing investors and advisors. Our founder (Tom Medema) has previously scaled a startup from 0 to 130 employees with tens of millions in ARR. Our Head of Marketing led marketing functions at Adobe, Cruise, and Lyft.
Some of our investors include Craft Ventures (David Sacks, founder Yammer), Naval Ravikant (CEO Angellist), Todd Goldberg & Rahul Vohra (founder Superhuman), Weekend Fund (Ryan Hoover, founder Product Hunt), Shrug VC, Work Life Ventures (Brianne Kimmel), Jeff Morris Jr., Jack Altman (CEO Lattice), and more. We'll soon be adding two more tier 1 firms to the list!

👉 Apply now
Simply expand this toggle to apply or click this link

Our product principles
We'd love to tell you more about our product principles, but here's a summary
✨ Empowering first experiences through non-boarding. We believe in non-boarding by experiencing the superpowers of async collaboration through an intuitive first experience
✨ A simplistic approach and visual style. We don't believe in bells and whistles. We believe in pillar features that make you get stuff done
✨ One experience. Across all platforms, devices and departments that make use of familiar conventions while still being own-able and delightful
✨ Build the right things, the right way. Clearly define problems before getting into solution mode, by communicating often and clearly with users, teammates, and ourselves. Make small decisions based on user research, and big decisions with intuition
Bubbles is an equal opportunity employer. We are committed to equal employment opportunity regardless of race, color, ancestry, religion, sex, national origin, sexual orientation, age, citizenship, marital status, disability, gender identity or Veteran status.
Originally posted on Himalayas