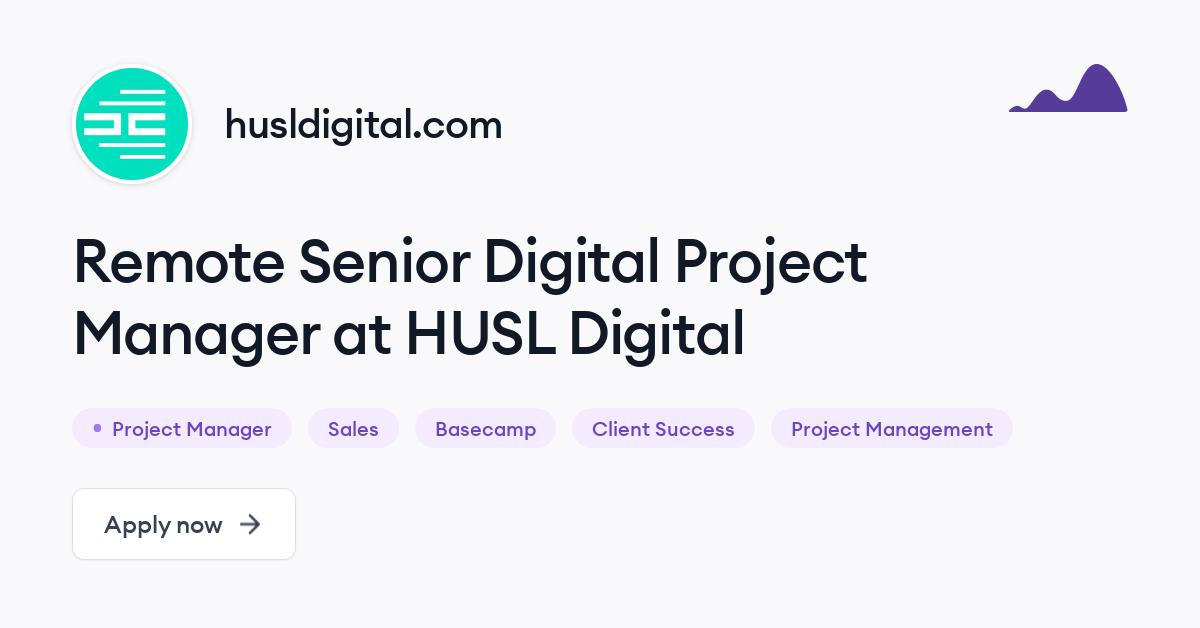 HUSL Digital
We are a strategic full-service digital agency specializing in delivering high-value results for high-growth companies and organizations. We partner with our clients to create and implement digital solutions that have an immediate and lasting impact on their bottom line.
We believe investing in People delivers the highest returns
We believe Partnerships encourage success
We believe in building and implementing a flexible, repeatable Process
We believe all work, big and small, should be done with Purpose
Our team of strategists, project managers, designers, developers, and marketers are fully distributed across the globe. Client accounts are led by Client Success Managers focused on delivering high-quality work in a fast-paced environment. Our full-time team enjoys a flexible PTO policy and 17+ paid holidays along with comprehensive health, vision, and dental benefits plus short and long-term disability and 401k employer matching up to 4%.

Job Description
Reporting to the VP of Client Success, our PMs are responsible for assisting with the implementation of and adherence to project management best practices and methodology. The digital PM has demonstrated expertise in managing multiple client projects, planning and scheduling project goals, milestones and deliverables, adhering to established budgets and serving as a support to our cross-functional teams.
Collaborating with designers, developers, sales, and leadership, you will manage projects for web and other digital programs from concept through completion. We are looking for a professional who is a problem solver, extremely detail-oriented, passionate, and motivated to learn and grow with us. We expect you to value quality, innovation, customer service and teamwork.

Responsibilities:

Client and Project Management:
Manage multiple projects concurrently ensuring that projects are delivered on time, within budget, on schedule and within project scope
Create project plans and maintain the schedule for the duration of the project
Create overall status reports and lead weekly status meetings with the team and clients
Identify and monitor project risks, action items and issues
Proactively communicate project status, issues and mitigations to VP of Client Success
Partner with client stakeholders to ensure overall project or program achieves business goals
Work directly with designers, developers and other team members to track progress, identify and resolve issues, and look for ways to accelerate the delivery of the project
Communicate effectively and proactively with clients and work hand-in-hand with stakeholders to ensure project requirements and planning align with broader client goals and objectives
Stay on top of the pulse of client accounts in terms of long-term planning, resourcing, and budgeting

Resource Planning:
Assist VP of Client Success in working with project management team to allocate resources across projects and ensure that project staffing is aligned with budgets and requirements

Sales:
Work with Sales team to scope, estimate, and pitch new business as needed
Work with Sales team to plan/manage resources actively involved in sales pitches or spec work
Identify areas of opportunity to upsell within current accounts

Process and Tools:
Adhere to current processes and procedures
Assist VP of Client Success in implementation of project management software and support enhanced utilization of project management software
Assist VP of Client Success in writing project management best practices and standard operating procedures that align project management responsibilities with project complexities and budgets
Assist VP of Client Success in developing tools and templates to guide project managers, enhance project work efficiency, and streamline critical processes and activities

Qualifications:
Bachelor's degree in communications, marketing, technology, or related discipline
Minimum 5-7 years of previous project management experience working on digital products and services (preferably for an agency)
Minimum of 5 years of experience managing and reporting project financials
Ability to manage multiple projects of varying size and complexity
Proven successful leadership of client accounts
Full understanding of project management best practices and methodology
Proven ability to manage cross-functional teams
Excellent communication, organization, time-management, and leadership skills
Expert knowledge of WordPress, Google Sheets/Docs, Basecamp (a plus)
Expert knowledge in managing teams of designers and development teams in a remote environment and multiple time zones.
Must have a thorough understanding of web design and development process and general B2B marketing
Originally posted on Himalayas