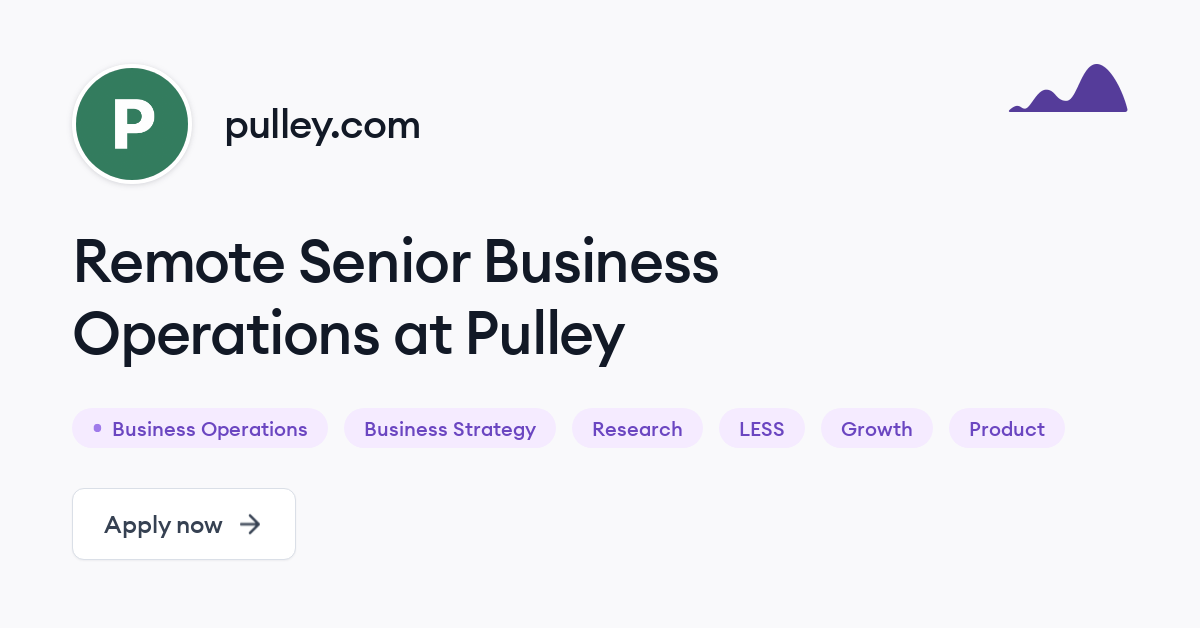 Pulley
Pulley's mission is to make it easier for anyone to start a company. We believe that more startups should exist and that founder-led companies are more successful in the long term. With Pulley's cap table management tools, companies can better understand and optimize their equity for the long term. Starting a company is hard enough. Managing equity shouldn't be. 
We're a high-performing team looking for passionate, execution-focused self-starters to help us build equity management tools for founders. Pulley is growing quickly with over 1600 customers, including unicorns like Clubhouse, Birdies, Coda, and Bitwise – all within our first year of product launch. Our trajectory is fueled by top investors like Founder's Fund, Stripe, General Catalyst, Caffeinated Capital, 8vc, Elad Gil, among other great angels. All of our growth has been organic, and we're growing the team to meet the demand.
🌟 Who We're Looking For
We are looking for a smart generalist to work within business operations. You will help scale a fast-growing startup from 25 people to 100 by first filling key roles yourself, building processes to help that function scale, and backfilling for yourself by hiring specialists in sales, recruiting, marketing, etc. over time.
🛠 Responsibilities
Perform analyses and research to drive our product and growth strategy

Work with product and GTM leads on planning and launching new products

Identify and help execute new growth opportunities linked to our product strategy

Design and implement the business systems and processes that Pulleys needs to scale

Work cross-functionally across sales, marketing, product, and engineering to launch new product lines
🙌 Qualifications & Fit
You have strong written communication skills – critical for our remote-first team

You have a strong work ethic and willingness to do whatever it takes to deliver results

You thrive in bringing structure to highly ambiguous environments.

You have experience taking initiatives or products from idea to launch
Nice to haves
You have 4+ years of work experience. High slope new grads are also encouraged to apply if you're up for the challenge.

You think analytically and get a kick out of diving into the data and thinking from a first-principles perspective. Engineering or quantitative background preferred but not required.
💚 Benefits
Generous health insurance

Unlimited vacations

Commuting & food
✨ Our Culture
TL&DR – Pulley is not a good fit for everyone, and that's OK. This is a bit about the culture of Pulley. We need people who aren't just interested in working at a startup; we need people who are excited about building a great company. In addition to function-specific skills, here are some traits that enable our team members to thrive:
Ego-less Learner — Every day at Pulley, we try things we've never done before – sometimes they work; sometimes they don't. To be successful here, you need to embrace that feeling of 'being a beginner' and be willing to accept feedback in stride. 

Less Talk; More Action — Everyone rolls up our sleeves at Pulley. If your strength is being the 'idea person' but you don't create your own slides or write your own code, then we are not a great fit.  

Prioritize ruthlessly – Our view is that being a 10x engineer is not about writing more code; it's about making the right decision on what to build. We're hiring people who can make the right strategic decisions on where to spend their time
We're also inspired by the culture work done at other companies and plan to develop our own playbook here too. One concept that resonates most with us is the importance of stunning colleagues.
If you like the sound of our environment and are passionate about joining a team like the one we've described, we'd love to talk!
Originally posted on Himalayas