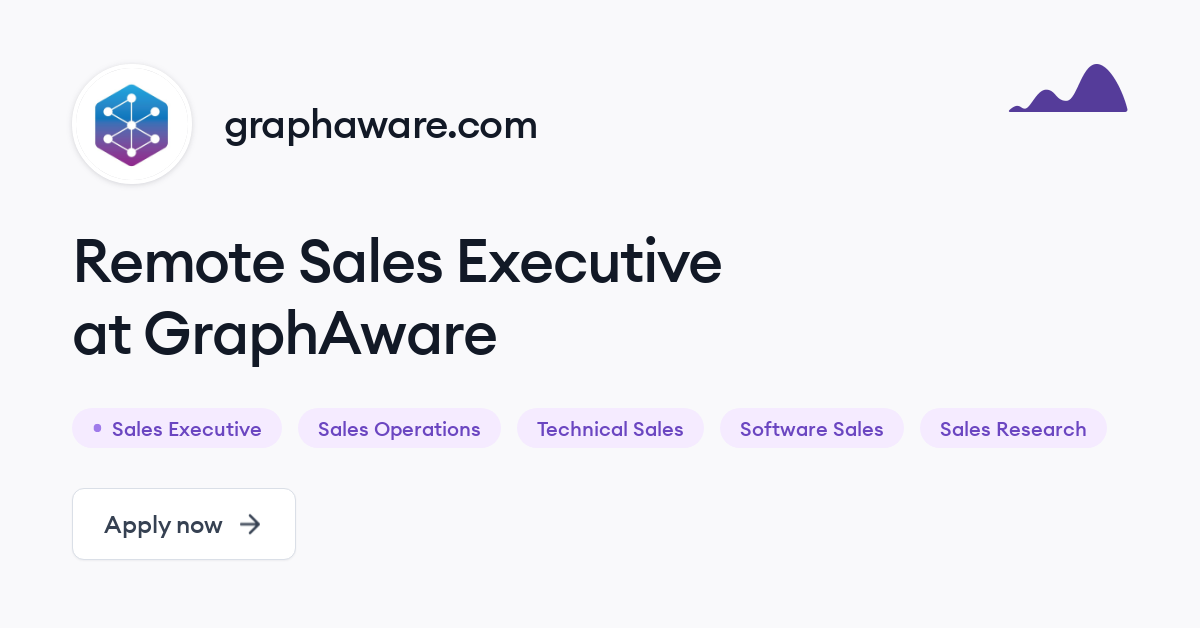 GraphAware
We are a team of graph technology experts. We help organizations gain a competitive edge through the application of graph technologies. Our own product, Hume, enables mission-critical graph analytics and is used in different industries all around the world to keep countries and communities safe, combat financial fraud, discover new medicines, advise important policymaking, and much more. Hume can take GraphAware from a $5M to $100M company in 10 years (market potential validated by Gartner, Forrester, and others).
What is the role about?
Having our own product brings new and exciting challenges and we are looking for a talented person, who will meet the company's goals by pursuing new business relationships.
Are you GraphAware's next Sales Executive?
This opportunity is best suited for an experienced and driven person who goes all out to drive new business growth.
Moreover, our company values need to resonate with you.
Strive for excellence

Sense of ownership

Driven by customer success

True team player

Believe in the value of (graph) technologies
Main goals and responsibilities:
Defining and executing account sales plans for your named enterprise accounts

Building up a pipeline and meeting your annual sales target

Managing the full sales cycle from driving demand, prospecting, qualifying, managing, and closing sales opportunities

Developing and nurturing business relationships with key stakeholders and influencers in your accounts

Being a trusted advisor in our field of expertise

Navigating the procurement processes and buying cycles of these accounts and understanding who the key influencers and decision-makers are

Working with our partners when required and leveraging them to support your sales efforts

Leveraging and coordinating the sales opportunity team throughout the sales cycle

Differentiating from the competition, competitive issues, and products

Being a valuable team player and participating in company activities

Traveling to customer sites when needed
To succeed in this position, you need the following skills/background:
Proven track record of successfully selling enterprise software solutions and closing enterprise agreements

Excellent understanding of mission-critical analytical solutions across industry verticals and use cases

Consistent overachievement of sales goals

Hunter who loves to acquire new customers and close deals

Excellent communicator and fluent in English

Highly driven individual with an execution focus

Knowledge of how to quantify value and build business cases

Entrepreneurial approach and resource management

A team player knowing how to collaborate internally and externally
What we offer:
Place where you can actually influence how we do things

Working for an attractive international advanced-tech company

Open environment for own initiative and creativity

Significant potential for professional growth

Flexibility to balance your personal life and work

Strong support from the team and management

Fun environment and great office culture
Originally posted on Himalayas