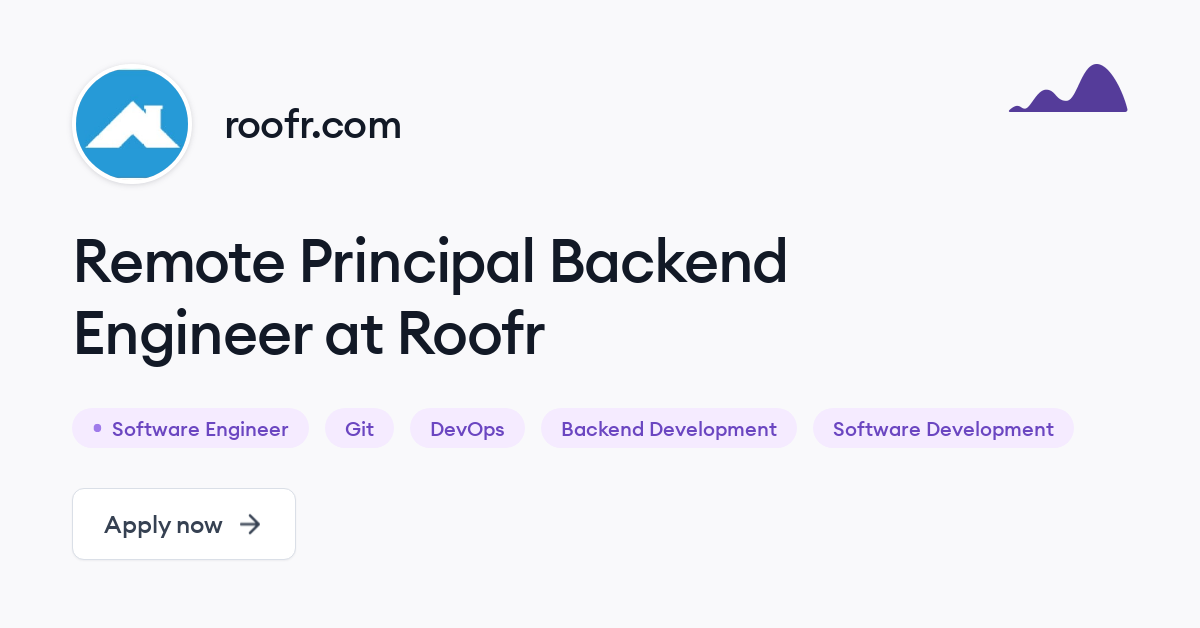 Roofr
Led by funding from Crosslink Capital, Bullpen Capital and Y Combinator, Roofr started as a managed marketplace for roofing providing roofing estimates in seconds through satellite imagery.
We're now building an all-in-one sales platform for roofers to grow their business- from fast and accurate satellite roof measurements to project-winning proposals.  
Our mission is to ensure every family across North America has access to protect their home with an affordable roof.
Our mission is to ensure every family across North America has access to protect their home with an affordable roof.
Building a powerful user experience is what sets Roofr apart from all other roofing platforms. As an Engineer in an early stage and high growth company, you will have a large impact on both technical implementation and help steer our technology roadmap.
In this role, you will have the opportunity to:
– Be a driver of backend architecture to the next stage of Roof's systems.
– Set organizational standards on software patterns patterns & methodologies.
– Lead development and maintenance of backend services.
– Work in an early stage company with engineering first culture.
We're looking for someone who:
– Has 7+ years of software development experience and 3+ years in a leadership role.
– Is a champion of agile methodologies, and enjoys shipping code often and confidently.
– Has a track record on breaking down complex problems as incremental solutions.
– Proactively recommends initiatives to improve our engineering technologies and culture.
– Enjoys working in a collaborative environment where everyone helps each other grow.
– Takes ownership of the product and is proud of the quality of their work.
– Has excellent communication skills, and appreciates the value of good documentation.
– Understands the challenges of early stage company priorities.
– Likes being an individual contributor, but also wants to focus on the bigger picture.
– Understands challenges and strategy of rebuilding legacy systems.
Your responsibilities will consist of:
– Evaluate existing engineering tools & processes and recommend improvements.
– Recommend and prototype new technologies to improve system performance and reliability.
– Mentoring the engineering team and help grow their skills.
– Ensuring we are meeting our high quality deliverables and testing standards.
– Analyze requirements and provide technical and functional recommendations.
Some skills we are looking for:
– Understands micro service architecture, and creating scalable platforms
– Building Restful APIs
– Experience with PHP Language & Laravel framework
– Knowledgable on database technologies and domain design
– Experience building frontend testing and automation systems for unit tests, integration tests, regression tests, and user acceptance tests.
We would love someone that has skills in:
– DevOps
– Big Data / Data Science 
– Machine learning
– GIS
What You'll Get:
– Competitive Compensation
– Health Benefits from day 1
– Flexible PTO
– Home office set-up
– Equity options
Our location / Remote work:
– Our engineering office is based out of Toronto, Canada.
– We are a remote first company, but still like the idea of getting together for key milestones- .
Originally posted on Himalayas