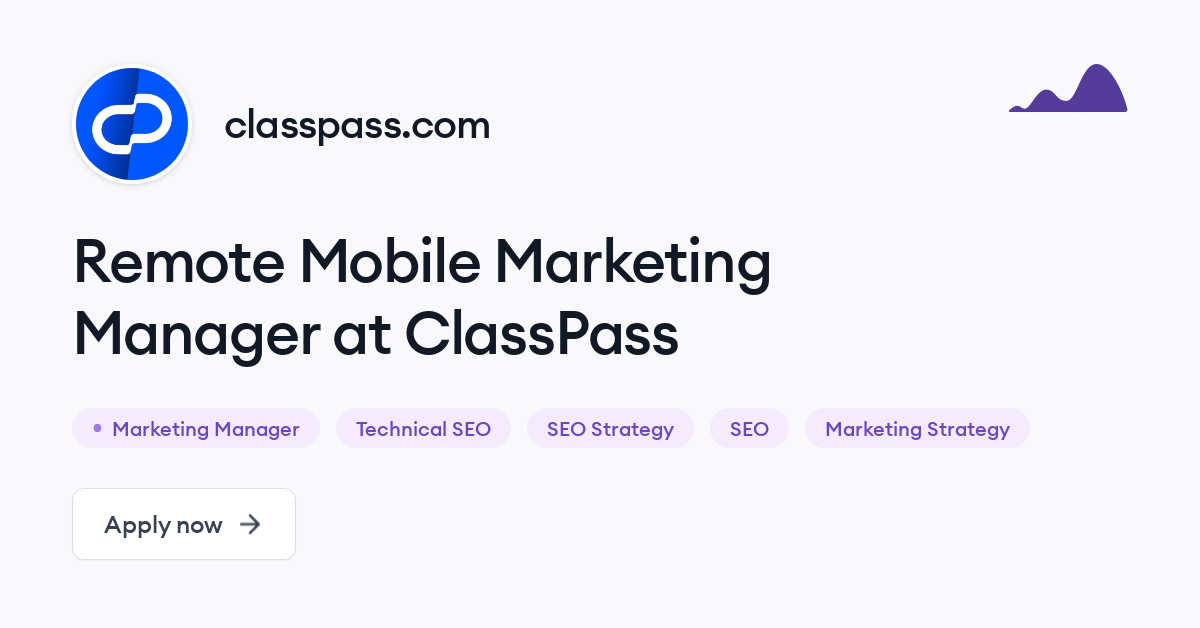 ClassPass
ClassPass is revolutionizing the fitness and wellness industry by bringing together the world's best classes and experiences into one app. Founded in 2013 by Payal Kadakia, ClassPass connects members to millions of classes in 30 countries around the globe, and is now available as a wellness benefit with some of the world's leading employers. We make it easy to prioritize your health, whether you decide to head to a local studio, play an on-demand workout or book yourself a much needed wellness appointment. Over 100 million reservations later, we truly believe that we're just getting started.
What we believe
At ClassPass, we believe in the power of movement. But we believe in more than just that. We believe in building for the future, creating more opportunities for everyone around the world to live fully and in good health. We believe that we can always push ourselves and our company to be better, and that there is power in the hard things when we're all working together toward the same goal. We believe in building a diverse company where a sense of belonging is felt by employees, customers and partners alike. And we believe that the secret to ClassPass' success is its people.
ClassPass is an Equal Opportunity Employer. We highly value diversity at our company and encourage people of all different backgrounds, experiences, abilities and perspectives to apply. We do not discriminate on the basis of race, religion, color, national origin, gender, sexual orientation, age, marital status, veteran status, disability status or other protected characteristics.
About the role
ClassPass/MindBody are hiring a Mobile Marketing manager, to focus on Paid Social, App 
 Reporting into the Paid Social Lead, ClassPass Global Acquisition Marketing team. 
In this role, you will support paid social marketing channels globally (US/CA, EMEA, APAC & LatAm), web and app and should have experience working recently, in this fast moving App space. 
About the right team member:
You're an app marketing and tech super-fan. You stay on top of everything new and exciting in the world of mobile app marketing as well as industry changes & updates.
You will be working in a Paid Social role, for an App and have both App and Web experience
You are a progressive, on-the-spot, creative problem solver who demonstrates both technical and analytical skills; comfortable measuring, interpreting, and making real-time decisions based on large volumes of marketing performance data.
You are diligent and attentive to detail, able to listen, learn, and put into action.
You have excellent communication skills and an ability to collaborate with those around you.
You have extensive experience in Instagram, Facebook and TikTok; optimizing audiences, creative and bidding.
You have experience with mobile measurement and app analytics platforms, such as Appsflyer.
You are familiar with App Store optimization strategies.
You are familiar with Google Analytics and Tableau.
You have working knowledge of SQL.
Responsibilities:
Take ownership of day-to-day paid social app performance for Instagram, Facebook and TikTok, ensuring ongoing and timely optimizations are delivered as well as seeking out opportunities to improve performance.
Work closely with the acquisition team to support performance KPIs and prioritize marketing channels to align with current business needs.
Accurately forecast budget and account performance based on campaign data and market dynamics; plan media activation to achieve acquisition KPIs.
Responsible for planning and executing the testing roadmap for App Store optimization, looking for ways to scale app acquisition across new channels and within existing campaigns.
Establish, optimize and report on app funnel tracking & measurement.
Plan and rollout testing initiatives across global markets, ensuring localisations are implemented effectively.
Collaborate with the creative team to drive creative testing and execution, incorporating campaign learnings into asset production.
Ability to work jointly with multiple teams, including creative, localisation, business intelligence, product, finance.
Qualifications:
3+ years of marketing experience, preferably in consumer companies. Marketplace, subscription business or SaaS experience is a plus.
Hands-on experience of paid media execution on Facebook, Instagram, Twitter, TikTok. Google Ads and Apple Ads experience is a plus.
Working knowledge of analytics tools such as Google Analytics and Appsflyer is required.
Knowledge of attribution and the difference in marketing strategies required as a company continues to grow.
Experience in planning & executing marketing channel strategies and advertising campaigns required.
Experience in budget management and data-driven decision making required.
Excellent communicator: Ability to communicate effectively across all levels of the organization from external vendors to senior leadership and junior team members.
Working knowledge of SQL and Tableau.
Originally posted on Himalayas