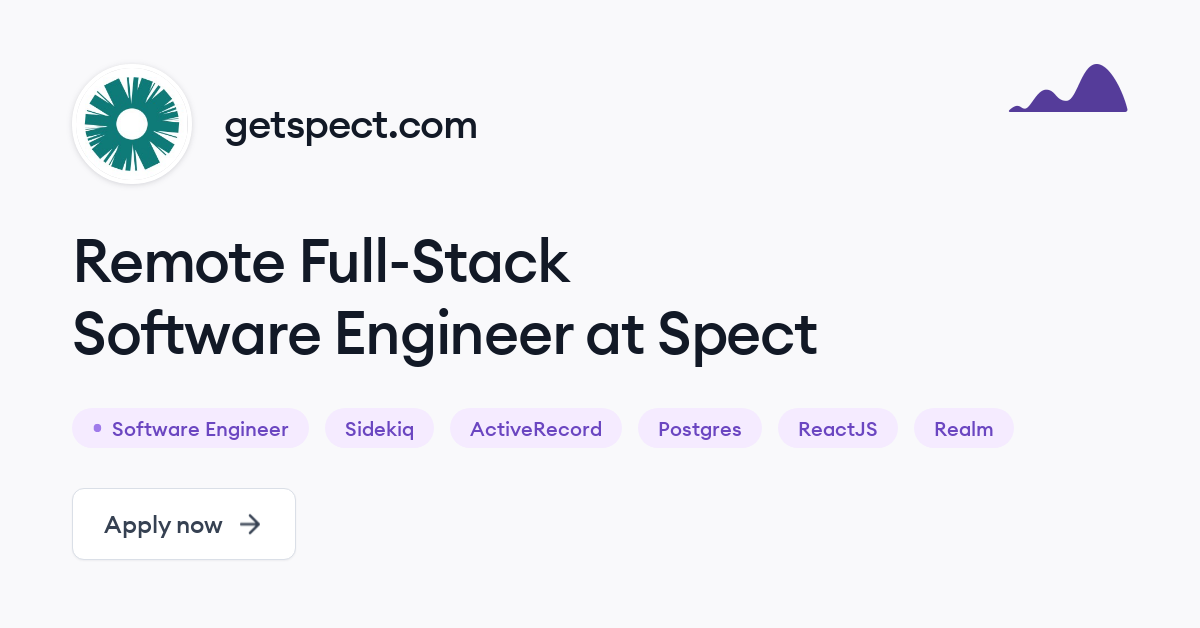 Spect
Spect is seeking a passionate Full-Stack software engineer.

About Us
Spect is a data science company and the leading provider of end-to-end eye disease screening solutions. Our mission is to prevent blindness with the early detection of eye disease and to build a platform for healthcare data analytics. Since the eye is the Check Engine Light of the Body™, it serves as a key predictor of eye diseases such as diabetic retinopathy, glaucoma, age-related macular degeneration, as well as whole-body diseases, such as stroke, Parkinson's, and more. Our AI-enabled telemedicine platform trains medical assistants and renders a diagnostic report in minutes. We fill a critical healthcare gap for patients and clinics while delivering best-in-class service and financial outcomes.

Responsibilities
Participate in the full development lifecycle, including design, coding, testing and production release.
Partner closely with design & product to craft great product experiences.
Works as a full-time hands-on coder and encourage code craftsmanship across the team.
Delivers code in an agile team environment.
Drives innovation through rapid prototyping and iterative development.

Qualifications
4+ years professional application design, development, and testing experience.
4+ years building applications using Java and Java based frameworks (Spring, Hibernate etc.)
Expert in modern database/storage technologies
Experience with imaging applications
Competent in design/implementation for reliability, availability, scalability and performance
Must have excellent background and understanding of HTML5, CSS3, SVG, ReactJS, Web Socket and Java as well as Client-side Javascript
Experience with popular JS frameworks and libraries (Angular, ReactJS, jQuery, CII, Less/Sass, Grunt/Gulp, etc.)
Expertise in Containerization and Continuous Deployment
AWS Expertise in cloud services
Server-side development (Java, JavaScript/Node.js, PHP, etc.) and architecture (Apache/Nginx/ etc.).
Experience with Database-driven web application development including Node.js applications on top of RESTful APIs
Git expertise
Bash (Linux or Mac)
Expertises in software security best practices
Familiarity with Certification processes: HIPAA, SOC, FDA, or equivalent
3rd party APIs and services integration
Knowledge of common content management systems.
iOS and/or Android native development experience a plus.
Comfort with Agile and Waterfall development methodologies.
Solid experience with automated unit, functional and integration tests
Understanding of cross-browser, cross-platform, and design constraints on the web

Why Us
Working in a team with high EQ that values diversity
Opportunity to impact patient care and the daily lives of healthcare professionals
Create technology that has a large impact
Competitive salary and flexible work hours

How to Apply
Include the role's title in your subject line.
Send along links that best showcase the relevant things you've built and done.
We are an equal opportunity employer. We do not discriminate on the basis of race, religion, color, national origin, gender, sexual orientation, age, marital status, veteran status or disability status.
Originally posted on Himalayas