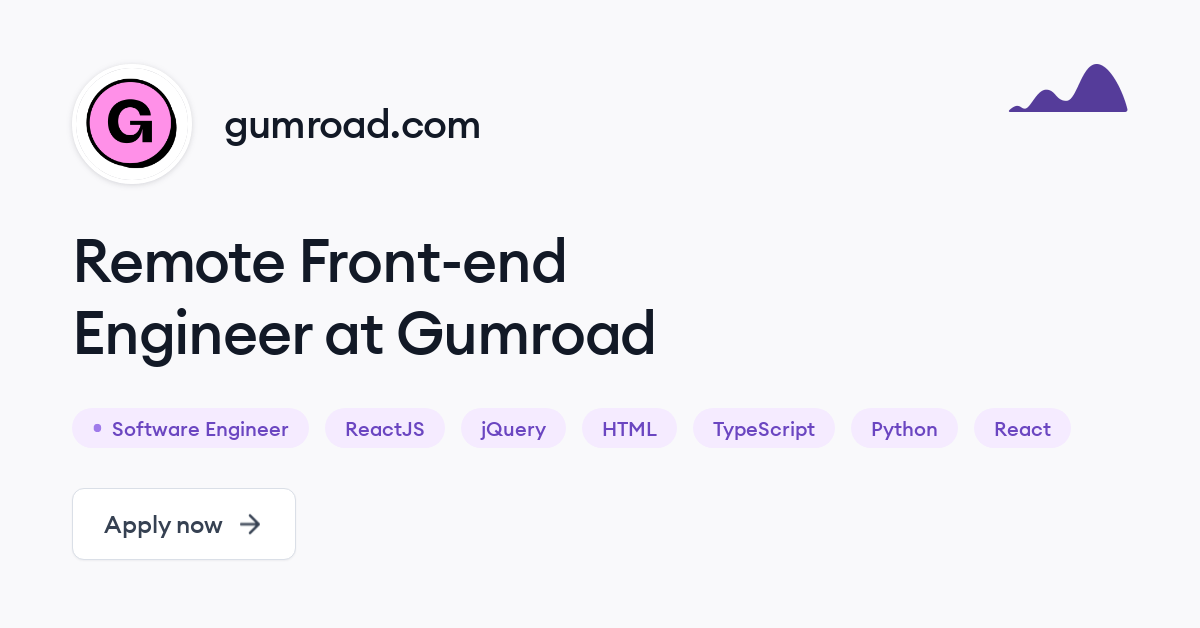 Gumroad
Our tech stack is Ruby and JavaScript. We started with vanilla JS, added jQuery, and are (still) migrating to React.
Example projects include shipping a new product feature (like being able to add custom Pages to your Gumroad, like an About page), fixing bugs, and resolving technical debt.
You will be in charge of tasking scoped and designed tasks, asking clarifying questions, solidifying the implementation, and shipping your work through to production and verification.
This is a role for senior people, who have at least a few years of in-production experience. You're expected to work around 35 hours a week, and expected compensation is $175K/year.
Interested? Apply by submitting a solution to
this coding challenge
. There's no time limit nor expiration. It will take you anywhere from 3 to 10 hours.
After submitting your pull request, please email
sahil@hey.com
with some information about what makes you tick, some things you've built, and what you currently do to pay the bills.
If you believe your body of work is strong enough, you can skip the coding challenge.

About Gumroad
Gumroad is 36ish people, scattered all over the world. We are looking for self-motivated, autonomous artists who like to ship to help us build great software products and customer experiences.

Overview
Gumroad helps creators get paid for their work. To date we have sent over $500,000,000 to creators. Our goal is simple: help our creators and online entrepreneurs make more money. We measure our success in GMV and product quality.
You can get caught up in a couple blog posts:
Editors' note: We have a couple deadlines and meetings now, but still very few per year!
I also recommend reviewing our Wiki and our Roadmap:

Fitting in
Gumroad is great for folks who like to manage themselves. They don't like managing others, and they don't like being managed. Instead, they manage "up."
Great writers do really well at Gumroad. 3-4 years of experience is recommended, but not required. The most important part is a strong body of in-production work!
Every role is product-focused, self-motivated, and business-minded. If you hate meetings and love to ship, and/or if you plan to be a CEO yourself someday, this may be a good fit for you.
Read our values, and if they resonate, you may fit in:

Process
The hiring process is the same for each role:
Challenge, asynchronous, 3-8 hours
Phone call, synchronous, 1 hour
Trial period for 6-8 weeks, paid
Trials can start any Monday you wish after a successful challenge. Some questions people have ahead of time are answered here:
Pre-trial information
Once we feel confident there's a fit (3-8 weeks), we'll sign the paperwork and work together for as long as both sides wish to.
Originally posted on Himalayas