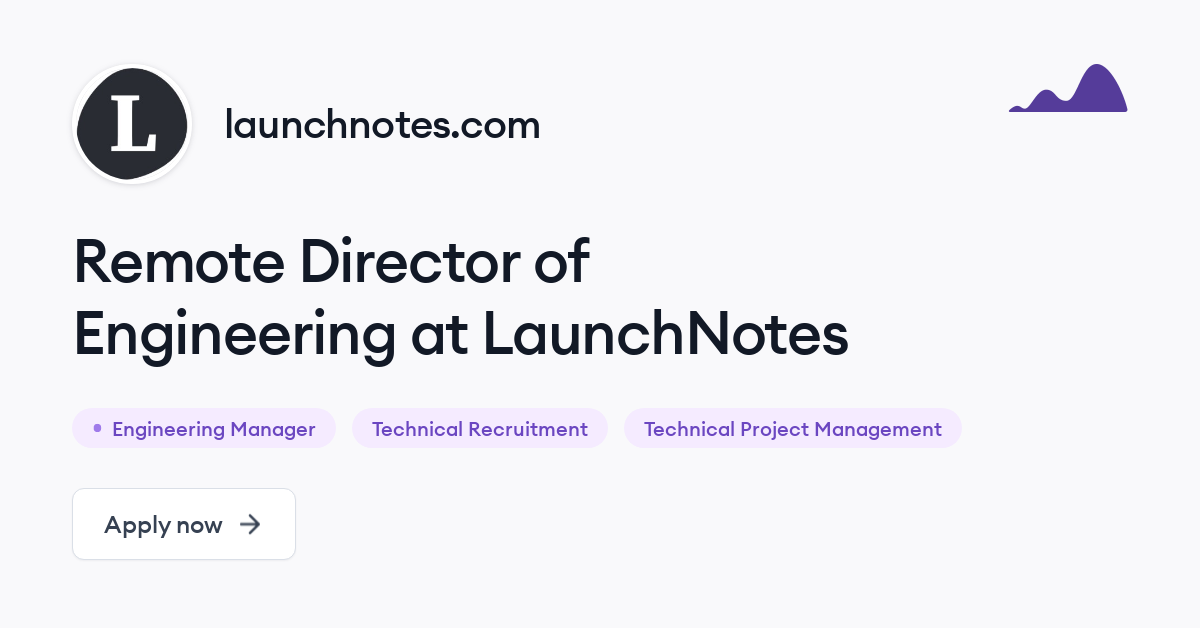 LaunchNotes
At LaunchNotes, diversity and inclusion are important core values. Candidates with diverse and/or underrepresented backgrounds are encouraged to apply.
While many of us are based in Colorado, LaunchNotes is a remote-first team. With that said, we are only accepting applications for full-time employment from individuals residing in the Americas at this time.
We are looking for a director of engineering to lead our engineering department and help us build great products. You'll also manage our infrastructure and ensure all internal systems operate securely and effectively. To be successful in this role, you should be confident managing your teams while, at the same time, setting goals, budgets, and timelines for various projects. We also expect you to be in charge of our integrations with external partners and oversee all software development plans from ideation to execution. Ultimately, you'll make sure we use innovative technologies that maximize our productivity, happiness and help our company grow.
LaunchNotes is solving 2 major problems for our customers:
Surfacing product changes from technical to non-technical teams within a company

Getting product changes in front of customers at the right time, so no one is surprised by a change
The technical problems we're excited to be addressing are:
Building a scalable stream processing, aggregation, and summarization pipeline

Serving public LaunchNotes pages to millions of end-users

Sending thousands of contextual and relevant notifications to highly engaged end-users

Building a privacy and security-focused analytics engine to help LaunchNotes customers understand how impactful their work is to their users
Our stack
Rails / React / GraphQL

Postgres / Redis

GCloud / Kubernetes
About us
We're a community of Statuspage & Atlassian alumni that are passionate about building amazing products for amazing people. We believe transparency is critical to well-functioning teams. We see LaunchNotes as a massive greenfield opportunity to change the way product teams work together, as well as collaborate with their non-technical compatriots. We're grateful and honored to be backed by an incredible group of world-class investors and advisors, and we're looking for a technical champion to join our growing family.
Responsibilities
Oversee front-end and back-end development teams and their projects

Monitor reliability and performance of all internal systems to suggest improvements

Ensure compliance with security regulations

Manage software development projects by setting requirements, goals, and timelines

Prepare and manage the engineering department's budget

Design strategies for future development projects based on the company's overall objectives and resources

Hire engineers and coordinate their training

Implement innovative technologies

Coordinate with external stakeholders for new integrations and tools

Review and update policies relevant to internal systems and equipment
Requirements
Several years of experience building and supporting exceptional engineering teams

Extensive experience with cloud technologies and modern human-computer interfaces

Hands-on experience in back-end and front-end development

Leadership abilities with a strategic mind

Excellent project management skills
Benefits
Fully subsidized Health Care Plan (Medical, Dental & Vision)

$5k workspace stipend – upon joining, expense up to $5k on your computer and workspace

$5k annual personal/professional development stipend – technical training, career coaching, or anything else that will help you level yourself up is on us.

Retirement Plan (401k, IRA)

Life Insurance (Basic, Voluntary & AD&D)

Unlimited Paid Time Off (Vacation, Sick & Public Holidays)

Family Leave (Parental)

Short Term & Long Term Disability

Work From Home

Stock Option Plan
Originally posted on Himalayas