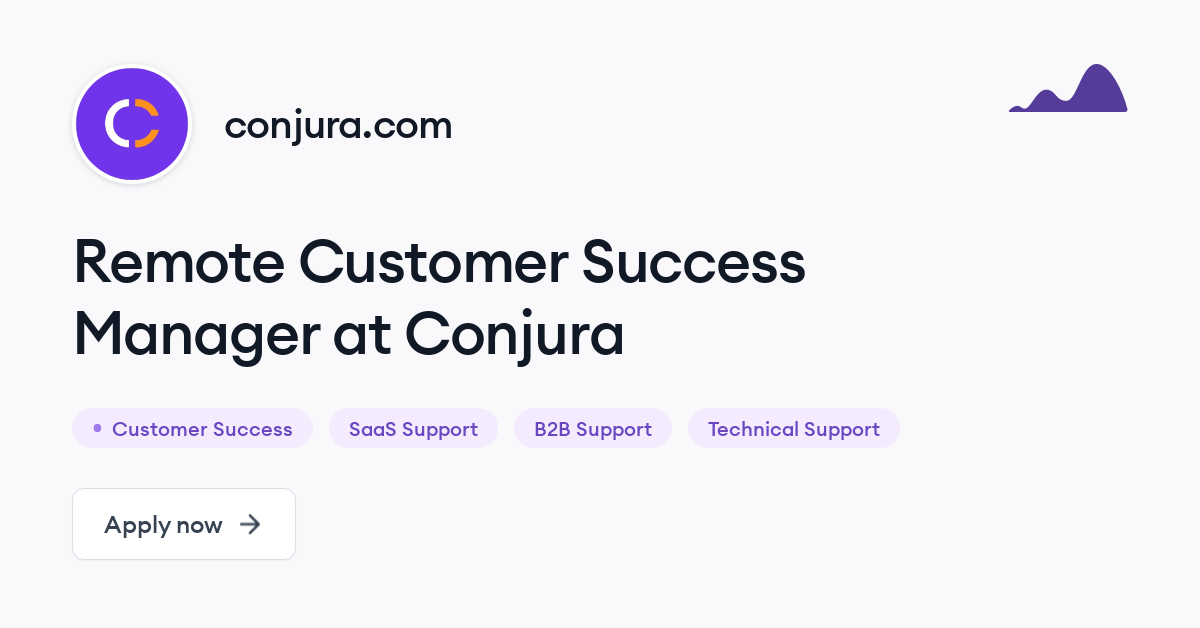 Conjura
Founded in 2018, the Conjura Platform accelerates e-commerce performance for consumer brands.
Conjura customers can connect, action and benchmark their data with one powerful platform. Conjura empowers data-driven decision making with intuitive dashboards and actionable insights for e-commerce businesses.

Being a Customer Success Manager at Conjura
We're looking for someone who has hands-on growth/marketing/CRM/analyst experience in an eCommerce business. You will be passionate about helping brands succeed and relish the opportunity to apply your knowledge and skills to a portfolio of customers. 
Our customer success(CS) team works closely with brands to drive insights from the Conjura platform and support their growth objectives. You will liaise directly with founders and leadership teams in high-growth D2C businesses, key verticals include Fashion, Beauty, Health & Wellness , FMCG and Retail.
As a member of the customer success team you will need:
Be passionate about the eCommerce landscape and enjoy working with growth businesses
Help our eCommerce customers grow, bring expertise and insight to operating teams
Lead key relationships with customers and internal stakeholders, become a trusted advisor to clients
Drive engagement and usage of the Conjura Platform
Drive customer retention and advocacy
Support Conjura's growth by meeting and exceeding targets for account expansion
Roll out new technology products and services to Conjura customers
Capture customer and market feedback, working closely with our product and delivery teams

Basic Qualifications
2-3 years marketing/CRM/analyst experience experience operating in an eCommerce business
Strong interpersonal skills and experience building strong internal and external relationships
Excellent organizational, project management, and time management skills
Successful applicants for a Customer Success Manager role will receive a full-time permanent offer, with a competitive salary, equity options, and flexibility to allow working remotely or at home.

Conjura team values
Curiosity – We NEED to know about our customers' businesses, what makes the businesses tick and what will make it better. We continuously sharpen our skills and keep up to date with the latest approaches to analytics.
Collaboration – Yes we have degrees and PHDs, and we have done amazing things with data, but when we join Conjura we check our ego at the door. This is because, as individuals, we don't have all the answers. The excellence of our team is shaped from multiple points of view and backgrounds working collaboratively. At the same time we are equally at home working independently – sometimes we need to take ownership.
Trustworthiness – We are trusted to produce accurate insights from commercially sensitive data sets. We must employ analytical rigor and quantitative reasoning skills.
Nimbleness – We need to flex when our client's business, customers or market changes!
Clarity – We must simplify complexity and explain value points to time poor, inexpert stakeholders. We have a passion for communicating ideas with data and technology.
Originally posted on Himalayas