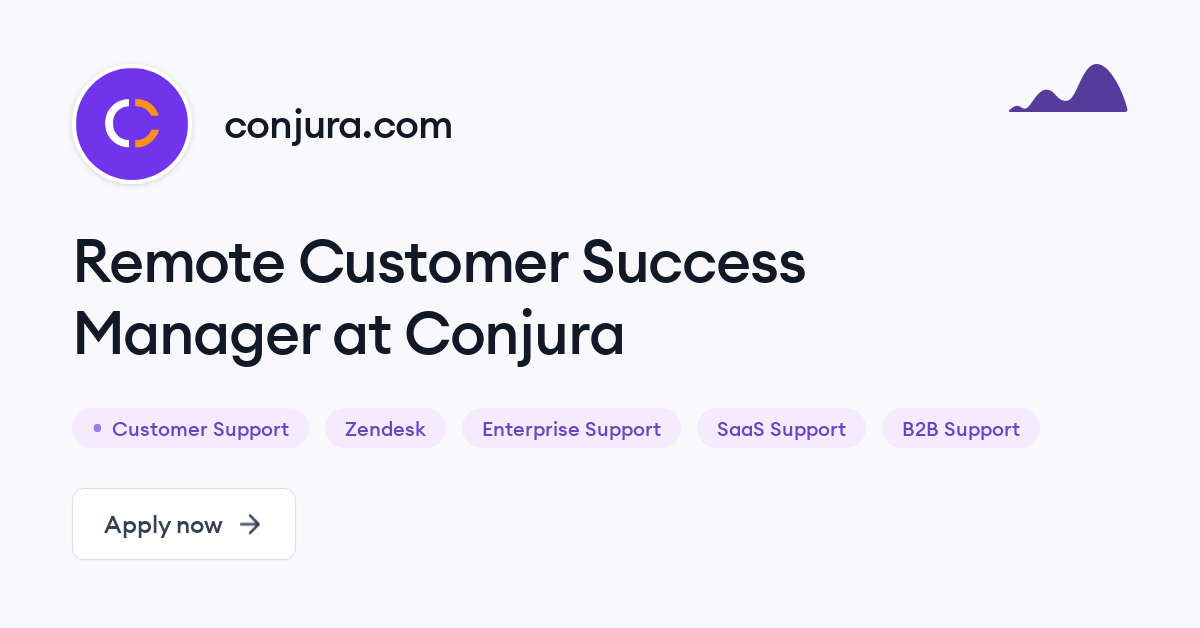 Conjura
Founded in 2018, Conjura brings together the best of software engineering, analytics and data science to help consumer businesses accelerate eCommerce performance.
We've grown revenue 4x in the last 12 months, doubled our team size and continue to deliver best-in-class analytics and data science for eCommerce.

Being a Customer Success Manager at Conjura
Our Customer Success team is small, but we are growing fast. We value aptitude over experience. Previous experience on customer success or consultancy teams will be useful, but curiosity and willingness to learn is just as important.
We're looking for someone who has experience of working in an account management or customer success organization. You are passionate about seeing customers grow and succeed with Conjura and love exploring new visualisations and tooling to help establish a meaningful, authentic, and effective avenue of conversation for a growing customer base.
As a member of the customer success team you will need:
The ability to establish and grow trusted relationships with customers and internal stakeholders to allow you to be a trusted advisor and consultant, to also deal effectively with relational challenges as they come up.
Be able to communicate to stakeholders with varying levels of complexity, so that an engineer has enough detail to fix an issue but also so that a CEO understands the impact.
To have a mind for technology. We'll teach you all about Conjura, but our customers and products are inherently technical. You should be too.
Experience with or aptitude for learning complex technologies.
To have outstanding verbal and written communication skills with the ability to present to a diverse audience both internally and externally.
To display a strong desire to embrace partnership and collaboration. You'll be working with multiple teams on a regular basis (Implementation, Engineering, Sales, etc.) and helping to build the Customer Success "brand" to our client base and internally within Conjura.
To have an adaptive mentality. You love an ever-changing environment where you are constantly improving yourself, the team and your processes.
To shape our customer success team and company culture. We'd like to learn from your experience.
To teach and learn from other members of the Conjura Team.
Our backgrounds are diverse, with a wide range of experience and career paths. Though we have many different skills, from technology to business, we work best as a single team.

Basic Qualifications
Degree combined with 2-3 years working in a Customer Success, Account Management and/or Management Consultancy role, project management experience is also a must have.
Professional experience in data viz and customer-facing roles.
Excellent organizational, project management, and time management skills
Successful applicants for a Customer Success Manager role will receive a full-time permanent offer, with a competitive salary, equity options, and flexibility to allow working remotely or at home

Conjura team values
Curiosity – We NEED to know about our customers' businesses, what makes the businesses tick and what will make it better. We continuously sharpen our skills and keep up to date with the latest approaches to analytics.
Collaboration – Yes we have degrees and PHDs, and we have done amazing things with data, but when we join Conjura we check our ego at the door. This is because, as individuals, we don't have all the answers. The excellence of our team is shaped from multiple points of view and backgrounds working collaboratively. At the same time we are equally at home working independently – sometimes we need to take ownership.
Trustworthiness – We are trusted to produce accurate insights from commercially sensitive data sets. We must employ analytical rigor and quantitative reasoning skills.
Nimbleness – We need to flex when our client's business, customers or market changes!
Clarity – We must simplify complexity and explain value points to time poor, inexpert stakeholders. We have a passion for communicating ideas with data and technology.
To register your interest for this role, please complete the form below.
Originally posted on Himalayas