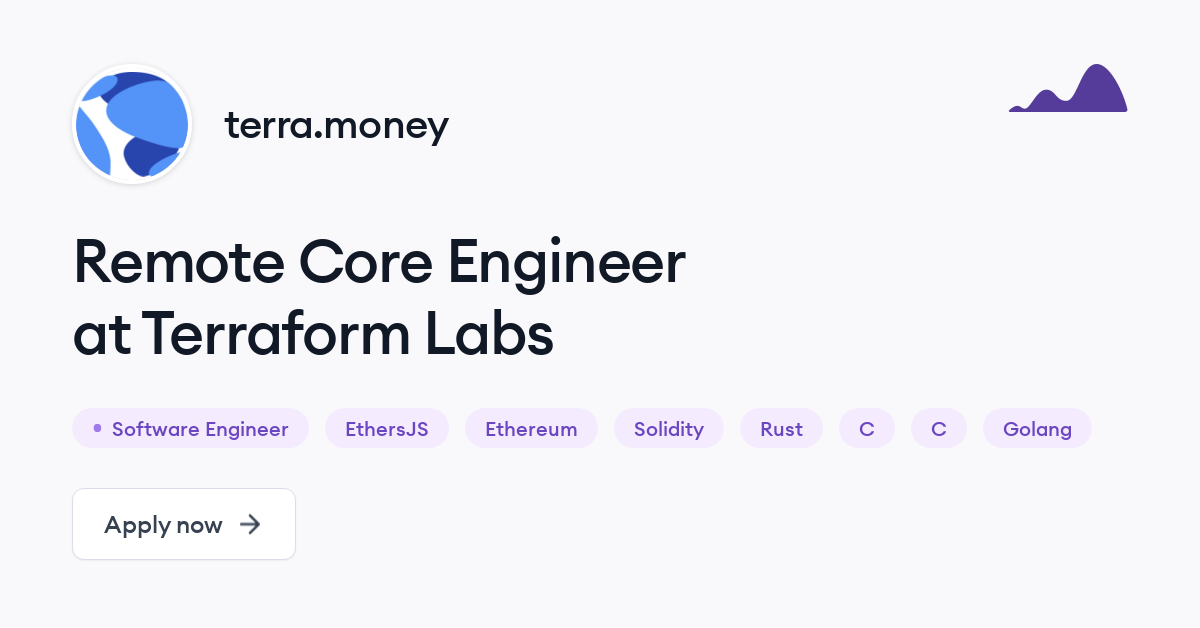 Terraform Labs
Terra's mission is to set money free. We believe that money is a form of technology that can be innovated on. As a pioneer in monetary technology, we build open infrastructure, rethink monetary policy, and create revolutionary applications that set the stage for open financial platforms.
At its core, Terra is a platform for developers. Developers can build applications on top of the Terra blockchain for countless use cases in crypto, including instant payments using stablecoins, trading synthetic assets, generating savings yields from deposits, recurring payments, and NFTs.
As featured in: 
CoinDesk: Terra Becomes Second-Largest DeFi Protocol, Surpassing Binance Smart Chain
Decrypt: Luna Token Sale Raises 1 Billion Bitcoin Reserve
Cointelegraph: Luna Flips Ethereum becoming second-largest network for staked value
Fortune: Cryptocurrency Exchanges Back $32 Million Stable Coin Project
Responsibilities
Design and contribute to Terra Core (github.com/terra-project/core), and other protocols powering Terra's varied financial apps

Participate in the design of performant and resilient distributed applications

Set community contribution guidelines & release management policies

Work alongside a cross-functional team including engineering, design, community, product, and business
Requirements
Leadership experience building and maintaining large-scale distributed systems in production

Significant experience (5+ years) building applications using Golang, Rust or C/C++

Excellent understanding of distributed system technology

Security awareness, with an emphasis on designing for security best practices + working understanding of cryptography

Experience working and contributing or leading to open source projects
If you are tired of simply making money and hope to go down the rabbit hole to rethink how money works, then Terra is the right place for you.
Terraform Labs Is an Equal Opportunity Employer. We do not discriminate against qualified employees or applicants because of race, color, religion, gender identity, sex, sexual preference, sexual identity, pregnancy, national origin, ancestry, citizenship, age, marital status, physical disability, mental disability, medical condition, military status, or any other characteristics protected by local law or ordinance.
Originally posted on Himalayas