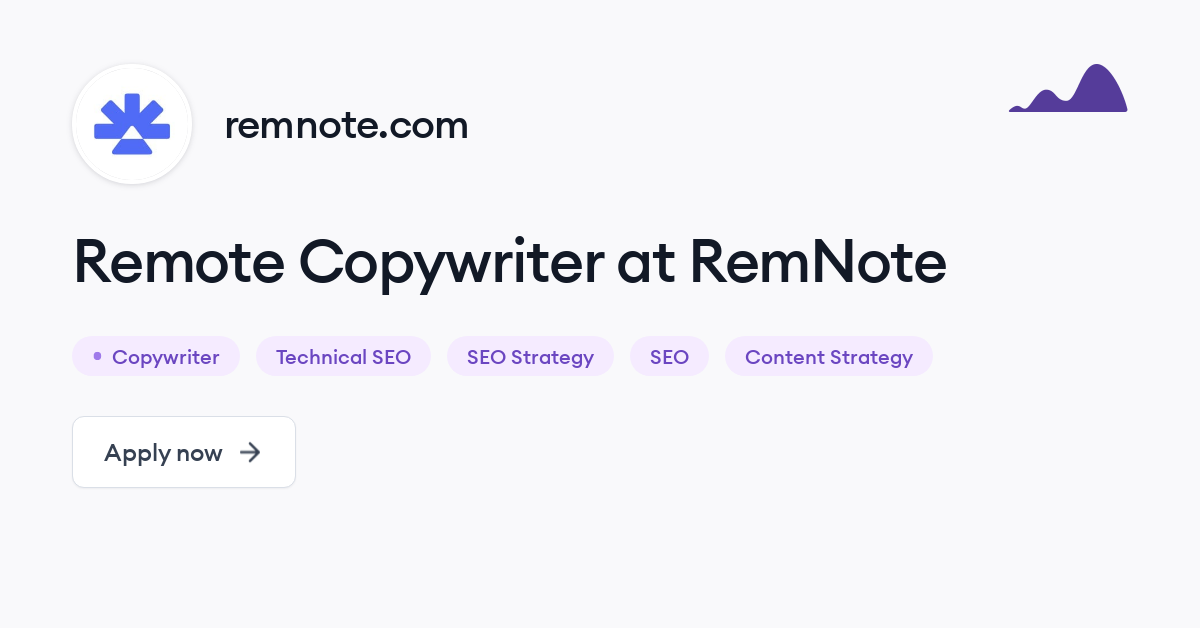 RemNote
RemNote was founded at MIT, got into YC (didn't go), and just raised their $2.8M seed round led by General Catalyst.
We're combining research of the fields of psychology and neuroscience with cutting-edge web technology we're massively increasing the productivity of thousands of students, researchers, and professionals every day.
We're looking for ambitious builders excited by the challenges and learning experience of a hypergrowth startup. Your impact and contributions will be visible from day one!
We offer flexible working hours and are a distributed company.
Users love our product, and we are well established within the personal knowledge management space. Our stats suggest tremendous opportunity, with very high retention and conversion rates. We're growing quickly each month, and are positioned to scale within the tools for thought, knowledge-management, and ed-tech spaces. You'll be able to apply state-of-the-art SaaS strategy and playbooks to 10x our growth in months.
Join RemNote to reinvent how people learn, think, and collaborate and build the #1 knowledge management platform.
What you'll do
Work closely with the support & community teams to understand user problems, build and maintain a knowledge base of help articles 

Monitor metrics to track the effectiveness of written help articles and iterate based on user queries

Write product update changelogs and update emails

Work with the marketing & content teams to build marketing copy like new homepages and SEO focused landing pages

Help turn briefs into scripts for YouTube videos 

Work with our content marketer to write engaging & repurposable content for our user communities.

Assist the support team by writing and updating support templates

Help improve the in-app language overall

Take ownership of welcome emails and rewrite them from ground-up 

Copy-edit any draft/brief for the leadership team (aimed at various external/internal communication purposes)

Drive editorial excellence and uphold standards and best practices to maintain consistent quality, voice, and style.
Your skills
Deeply understand our product and users

A copy-editor who obsesses over perfection in everything we write and have quick turn-around times

Excellent written communicator – we are a remote and global first team

Have a firm understanding of the principles of copywriting, brand communication, online and offline advertising, and performance media; including best practices at a channel-level, writing headlines and CTAs that get attention, make a clear point, and convert

Able to efficiently and effectively write clear, concise, and grammatically correct copy in a brand's voice and tone across multiple touch-points.

A deep understanding of the creative, digital, content, and tech landscape, especially regarding social media
Bonus
Have experience in writing marketing copies and technical documentation for SaaS companies

Hands-on experience creating engaging content and copy for various social media platforms

Power-user of personal knowledge management/ Learning software and other productivity tools that might help understand the pain point of our users
All of these requirements are not set in stone. We're looking for people who are passionate and ambitious. If you believe you're the right person for this job, tell us why.
Is this job not right for you, but you love what we are doing? We have other open positions as well.
Lastly, note that RemNote is a distributed company, and this is a remote (work-from-home) position.
Originally posted on Himalayas