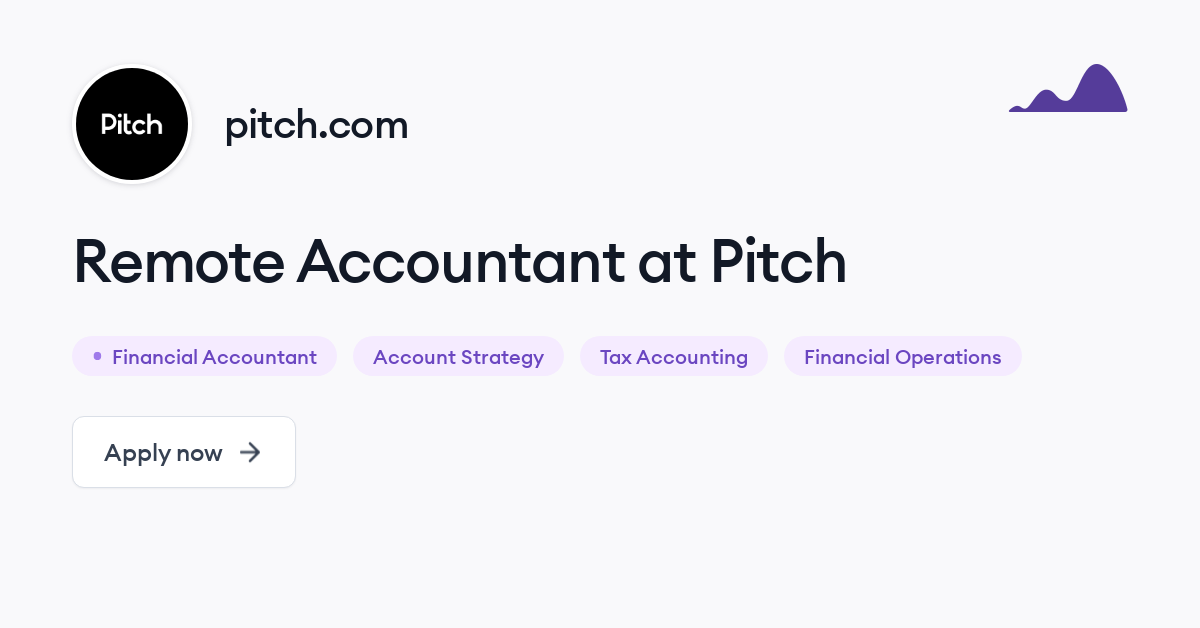 Pitch
Pitch is the collaborative presentation platform for modern teams.
With a focus on real-time collaboration, smart workflows, and intuitive design features, we make it fast and delightful for teams to create and deliver beautiful presentations. Our presentation and template galleries give everyone the ability to publish their own standout work, learn from one another, and find the creative spark for their next presentation. Tens of thousands of teams have made the switch to Pitch, including top brands like Intercom, Superhuman, and Notion. We've raised over $135 million to date, and have been recognized by FT-backed Sifted as
Europe's Top B2B Soonicorn
in 2022. And we're just getting started.
🇩🇪 German version below

We're looking for an Accountant [m/f/d] who will play an integral role in building out our accounting processes and workflows, can support and drive the gradual insourcing processes and can thus be an important part in our team's mission to build the ground control to support building and steering the "Pitch 🚀". We're looking for a proactive and impact-driven individual who is reliable, precise and willing to take responsibility to grow in this role from day 1.

The opportunity

As a member of the Finance team, you'll be accountable for all things related to accounting at Pitch. You are going to own the interface to our external tax advisor and will support driving the documentation, professionalization and gradual insourcing of our accounting processes. You are going to be the go-to-person for anything related to day-to-day finance and accounting and will work closely together with your colleagues in the Finance team to bring our processes to the next level and prepare our organization for the next phase of growth. In addition, you'll collaborate closely with other teams such as Community Support, Sales, Customer Success and Revenue in order to keep full control of our accounts receivables and ensure smooth billing and debt collection processes.
If you are proactive, eager to have an impact and take ownership, happy to communicate across multiple levels and regions, able to manage a diverse set of stakeholders and projects and motivated to develop and further grow in your job, this is the ideal opportunity for you. We are looking forward to your application.

What you will do

Handling and processing of preparatory accounts payable and bank accounting
Handling accounts receivable and ensuring defining and implementing clean invoicing and debt collection processes with other teams such as Community Support, Sales, Customer Success and Billing
Preparation, execution and reconciliation of payment transactions
Support in the preparation of monthly and annual financial statements (HGB) and the respective control and reconciliation processes such as accruals, prepaid expenses, advance VAT return etc.
Ensuring the quality of accounting and contributing to the continuous optimization of our financial processes
Collaboration in various projects in the area of interface optimization, digitization and the implementation of legal changes where needed
Contact person for colleagues, tax consultants, auditors and tax auditors
Potentially, support coordination of international payroll (time-, experience- and interest-dependent)

What you should offer

Degree in business administration (focus on accounting, bookkeeping) or a comparable, completed commercial apprenticeship (German: Finanzbuchhalter, Bilanzbuchhalter)
At least 3 years of relevant professional experience in accounting and financial accounting, preferably startup environment or tax advisory
Comprehensive knowledge of accounting regulations according to the German Commercial Code (HGB) as well as good knowledge of tax law
Strong Datev and Datev Unternehmen Online skills
Good knowledge in the use of Excel / Google Sheets
Fluent in German (C2) and have a fluent command of written and spoken English. Both languages will be essential in this role.

It's a bonus, but not a must, if you also have:

Experience with a spend and expense management solution such as Spendesk
Good knowledge of common ERP systems (e.g. Oracle Netsuite, Workday Financials)
International Financial Reporting Standards (IFRS) knowledge or experience with other major accounting standards such as US-GAAP
Payroll knowledge/ experience (both German and international)
Experience in the field of intercompany accounting
🇩🇪 Wir suchen einen Buchhalter [m/w/d], der eine integrale Rolle beim Aufbau unserer Buchhaltungsprozesse und Arbeitsabläufe spielt, die schrittweisen Insourcing-Prozesse unterstützen und vorantreiben soll und somit ein wichtiger Teil unserer Mission spielt, den Aufbau der Kontrollstation für den Aufbau und die Steuerung der Pitch Rakete zu unterstützen. Wir suchen eine proaktive und wirkungsorientierte Person, die zuverlässig und präzise ist und bereit ist, Verantwortung zu übernehmen, um vom ersten Tag an in dieser Rolle zu wachsen.

Die Herausforderung

Als Mitglied des Finance Teams bist Du bei Pitch für alles verantwortlich, was mit der Buchhaltung zu tun hat. Du wirst die Schnittstelle zu unserem externen Steuerberater bilden und die Dokumentation, Professionalisierung und das schrittweise Insourcing unserer Buchhaltungsprozesse vorantreiben. Du bist die Anlaufstelle für alles, was mit dem täglichen Finanz- und Rechnungswesen zu tun hat, und arbeitest eng mit Deinen Kollegen im Finance Team zusammen, um unsere Prozesse auf die nächste Stufe zu bringen und unsere Organisation auf die nächste Wachstumsphase vorzubereiten. Darüber hinaus arbeitest Du eng mit anderen Teams wie Community Support, Sales, Customer Success und Revenue zusammen, um die volle Kontrolle über unsere Forderungen zu behalten und einen reibungslosen Rechnungs- und Inkassoprozess zu gewährleisten.

Wenn Du proaktiv bist, gerne etwas bewirken und Verantwortung übernehmen möchtest, gerne über mehrere Ebenen und Regionen hinweg kommunizierst, in der Lage bist, eine Vielzahl von Interessengruppen und Projekten zu managen, und motiviert bist, Dich weiterzuentwickeln und stetig in Deinem Job zu wachsen, ist dies die ideale Gelegenheit für Dich. Wir freuen uns auf Deine Bewerbung.


Deine Verantwortlichkeiten

Bearbeitung der vorbereitenden Kreditoren- und Bankbuchhaltung
Bearbeitung der Debitorenbuchhaltung und Sicherstellung der Definition und Umsetzung sauberer Fakturierungs- und Inkassoprozesse mit anderen Teams wie Community Support, Sales, Customer Success und Billing
Vorbereitung, Durchführung und Abstimmung des Zahlungsverkehrs
Unterstützung bei der Erstellung von Monats- und Jahresabschlüssen (HGB) und den entsprechenden Kontroll- und Abstimmungsprozessen, wie z.B. passive wie aktive Rechnungsabgrenzung, Umsatzsteuervoranmeldung etc.
Sicherstellung der Qualität des Rechnungswesens und Mitwirkung an der kontinuierlichen Optimierung unserer Finanzprozesse
Mitarbeit in verschiedenen Projekten im Bereich der Schnittstellenoptimierung, Digitalisierung und der Umsetzung von gesetzlichen Änderungen bei Bedarf
Ansprechpartner für Kollegen, Steuerberater, Wirtschaftsprüfer und Steuerberatungsgesellschaften
Evtl. Unterstützung bei der Koordination der internationalen Lohnabrechnung (zeit-, erfahrungs- und interessenabhängig)

Das bringst Du mit

Abgeschlossenes Studium der Betriebswirtschaftslehre (Schwerpunkt Rechnungswesen, Buchhaltung) oder eine vergleichbare, abgeschlossene kaufmännische Ausbildung (Finanzbuchhalter, Bilanzbuchhalter)
Mindestens 3 Jahre einschlägige Berufserfahrung im Rechnungswesen und in der Finanzbuchhaltung, vorzugsweise im Startup-Umfeld oder in der Steuerberatung
Umfassende Kenntnisse der Rechnungslegungsvorschriften nach HGB sowie gute Kenntnisse im Steuerrecht
Gute Datev und Datev Unternehmen Online Kenntnisse
Gute Kenntnisse in der Anwendung von Excel / Google Sheets
Fließende Deutschkenntnisse (C2) und verhandlungssichere Englischkenntnisse in Wort und Schrift

Von Vorteil wären ebenfalls

Erfahrung mit einer Ausgaben- und Spesenmanagementlösung wie Spendesk
Gute Kenntnisse der gängigen ERP-Systeme (z. B. Oracle Netsuite, Workday Financials)
Kenntnisse der International Financial Reporting Standards (IFRS) oder Erfahrung mit anderen wichtigen Rechnungslegungsstandards wie US-GAAP
Kenntnisse/Erfahrungen in der Lohn- und Gehaltsabrechnung (sowohl deutsch als auch international)
Erfahrung auf dem Gebiet der konzerninternen Rechnungslegung
Originally posted on Himalayas